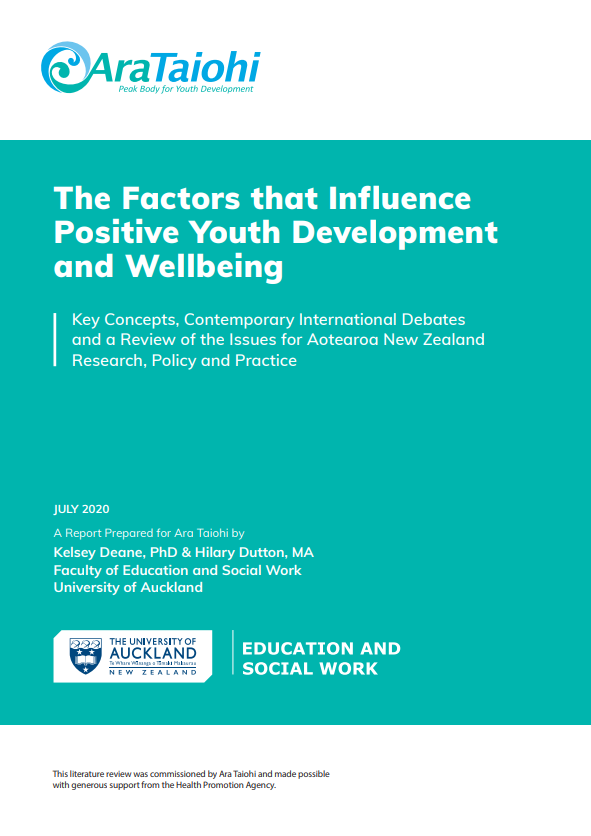 A Report Prepared for Ara Taiohi by Kelsey Deane, PhD & Hilary Dutton, MA, Faculty of Education and Social Work, University of Auckland.
The principle of consistently following a strengths-based approach is core to all facets of youth development work but there are varied conceptualisations of what this means across different research disciplines.
This literature synthesis explores the contemporary debates and tensions surrounding different conceptualisations of what is and what leads to positive youth development and wellbeing from three popular international perspectives: adolescent health, resilience and Positive Youth Development (PYD). It also explores how these ideas play out in Aotearoa New Zealand-based youth research and highlights potential implications for youth policy, programming and practice.
A pictogram has been developed to visually summarise information from the review. View the pictogram.
Deane, K., Dutton, H. (2020). The Factors that Influence Positive Youth Development and Wellbeing: Key Concepts, Contemporary International Debates and a Review of the Issues for Aotearoa New Zealand Research, Policy and Practice. Wellington, NZ: Ara Taiohi.
This publication has been restocked – please purchase your hard-copy by clicking the button above.