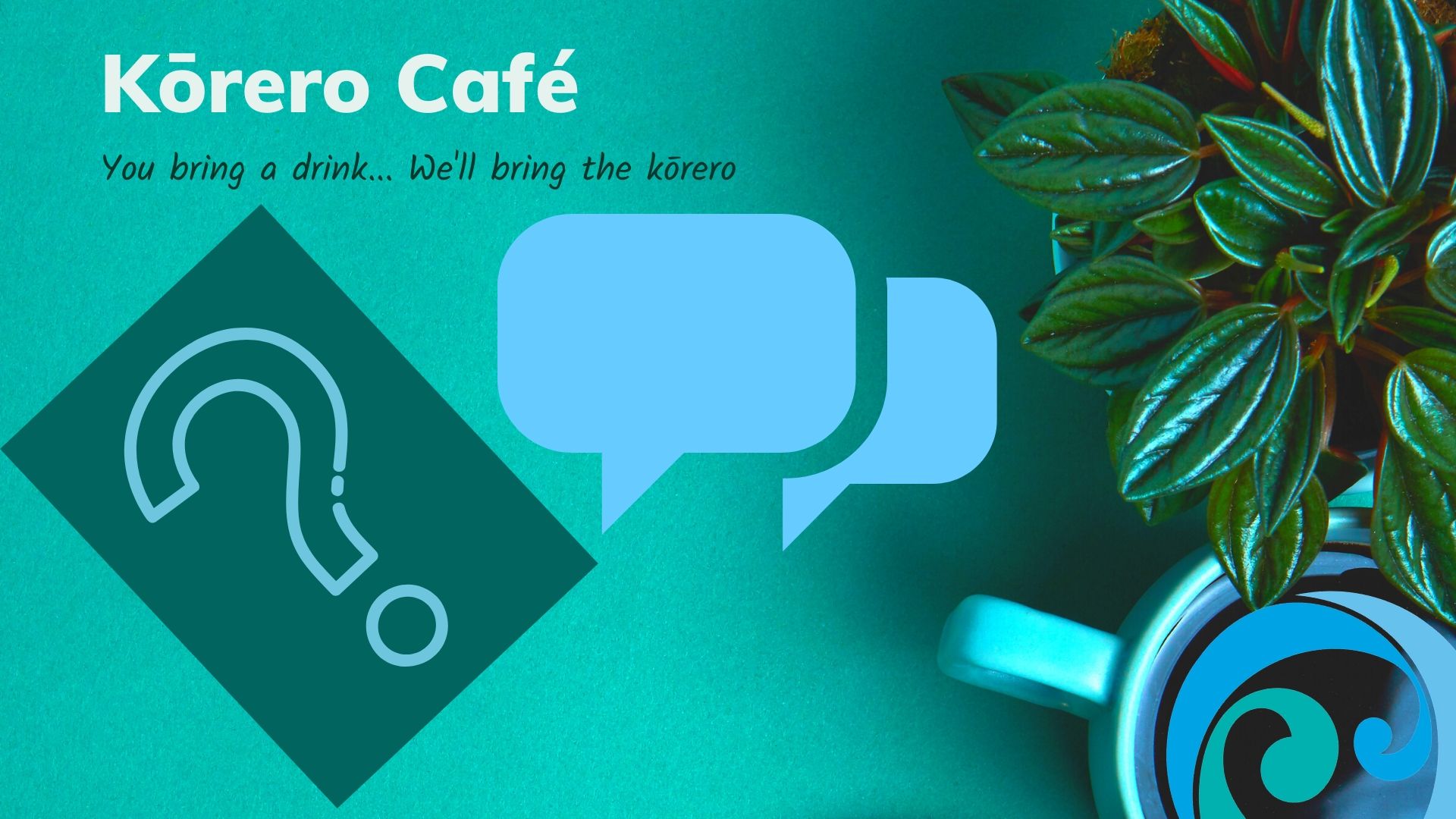 We are super excited to host the newest series of Kōrero Cafè based around Kaiparahuarahi No.4: Defining Youth Work!
Join us as we host online Zoom sessions where we have chats with a panel of authors from the latest Kaiparahuarahi. This is our chance to showcase the diversity of Youth Work in Aoteraoa and also hear what their definition of "Youth Work" is.
As we did last time, recorded sessions will be shared for your rewatching / recapping needs.
---
Kōrero Café Sessions
6: ROD BAXTER, Supervision Kōrero

Hosted by Zara Maslin, Korowai Tupu Projects Lead, join Rod Baxter (CEO, The Princes NZ) and Tyler Ngatai (Korowai Tupu Lead, Ara Taiohi) as they chat all things Supervision and the updated edition of the Supervision Handbook.
Watch the session YouTube.
5: ROD BAXTER & JANE ZINTL

Hosted by the amazing Noel Rawiri Woods (Office of the Children's Commissioner, Atiawa Toa FM and T.A Productions), join co-authors Rod Baxter (CEO, The Princes NZ) and Jane Zintl (CEO, Ara Taiohi) as they chat go-to youth worker resources, how comic books and lawyer fashion set them on their path and finally we get to hear their definitions of Youth Work.
4: NIKKI HURST, JONO SELU, MORGAN-JEAN BUTLER
Hosted by Tanya Engineer (Youth Coordinator, Shakti Youth Wellington), join authors Nikki Hurst (NZ Christian Council of Social Services & Korowai Tupu Rōpū), Jono Selu (Te Ngākau Kahukura), Morgan-Jean Butler (Problem Gambling Foundation NZ & Korowai Tupu Rōpū) as they kōrero about frameworks, how to peel a post-it "the right way" and cat cameos on Zoom.
Nikki Hurst is the Korowai Tupu Rōpu Chair and is on the board for Sticks 'n Stones. In her day job, Nikki is incredibly blessed to be leading the New Zealand Council of Christian Social Services.
Jono Selu is of Samoan, English, and Scottish heritage, and works as the Practice Lead at Te Ngākau Kahukura.
Morgan Butler is Māori (Ngāti Tūwharetoa, Tainui and Te Rarawa), Australian and Lithuanian heritage, currently working as a Health promoter.
3: ANARU TE RANGIWHAKAEWA, FIONA BEALS, LLOYD MARTIN
Hosted by Tayla Taylor (VOYCE Whakarongo Mai), join panellists Anaru Te Rangiwhakaewa (Ara Taiohi & Rangatahi to Rangatira), Fiona Beals (Whitireia and WelTec) and Lloyd Martin (Praxis) as they kōrero about super powers, what started them off on their Youth Work journeys and and cassettes (?)!
Lloyd Martin is an Educator with Praxis, a learning community of practitioners who are supporting the next generation of leadership in our communities.
Dr Phi (Fiona Beals) is the Principal Lead, Teaching Innovation & Research at Whitireia and WelTec. She has always had a foot in the faith-based sector as a volunteer in local church ministries. And has also taught in the Bachelor of Youth Work at WelTec.
Anaru Te Rangiwhakaewa
No reira, he uri tenei o Rangitāne, me Te Aitanga-A-Mahaki
Kaitiaki Kaupapa project lead – Ara Taiohi
Kaiarahi – Rangatahi Tu Rangatira
. . .
2: JUNIOR TAULA, STEPH BROOK, JAIME HUTTON
Hosted by Vyaan Kakau (VOYCE Whakarongo Mai & Rangatahi Regen Voyager), join panellists Junior Taula Oranga Tamariki, Steph Brook St George's Anglican Chruch, Epsom and Jaime Hutton SCOUTS Aotearoa as they kōrero about Zoom fashion, laundry and warm fuzzy youth work moments.
Read their wonderful articles from Kaiparahuarahi No. 4!
The Recorded Session can be viewed at our YouTube Channel.
"Please like and subscribe" – Junior Taula
–
Ielua Junior Taula is a first generation Samoan, born in Christchurch and working as a Youth Worker in Oranga Tamariki. His parents were hardworking factory labourers and wholeheartedly served many families in community, and later became Senior Pastors for Samoan Assemblies of God church. It was through observing his parents and church where he developed his own journey to serve people.
Steph Brook is of English descent and Aotearoa New Zealand heart, living in Tamaki Makaurau. Children, Youth and Families Pastor for St Georges, Epsom & Assistant Youth Facilitator for Diocese of Auckland. She is a Korowai Tupu Membership Committee member and loves reading your applications and your youth work stories!
Jaime Hutton has been working with young people in a variety of volunteer and professional contexts since she was a young person herself. She is currently the Youth Programme Manager for Scouts Aotearoa, a volunteer Venturer Kaiārahi, and is working towards completing her Diploma of Youth Work.
. . .
1: SAHKR MUNASSAR, CHRISTOPH TESCHERS, ANNE RUSSELL
Hosted by Charlie Eggleton (Korowai Tupu & Ara Taiohi Board member), join panellists Sakhr Munassar Halaو, Dr Christoph Teschers University of Canterbury and Anne Russell Tui Ora, as they kōrero about Youth Worker "must haves" and lessons they've been gifted from young people.
Read their wonderful articles from Kaiparahuarahi No. 4!
Watch the Recorded Session on YouTube.
–
Sakhr Munassar is originally from Yemen and has been living in Aotearoa since 2016. He completed a Master's in Peace and Conflict Studies at the University of Otago. For the past few years, Sakhr has worked as a Youth worker and is currently a member of the Korowai Tupu.
Dr Christoph Teschers hails from Germany. He is a Senior Lecturer at Te Kura Ārahi Ako | the School of Educational Studies and Leadership at Te Whare Wānanga o Waitaha | University of Canterbury and coordinates the Youth and Community Leadership Programme.
Ko Hikurangi te Maunga
Ko Mataatua te Waka
Ko Torere te Awa me te Marae
Ko Ngaitai te Hapu
Ko Te Whanau a Apanui me Whakatohea nga Iwi
Ko Anne Russell ahau
Twelve years ago, Anne was approached to take on the role of Youth Worker for Youth Transition Services in New Plymouth, with Tui Ora Ltd, who is the largest Maori Health organisation in Taranaki. She has never regretted that decision and as long as she has the passion to work with youth, she will continue doing it.
. . .