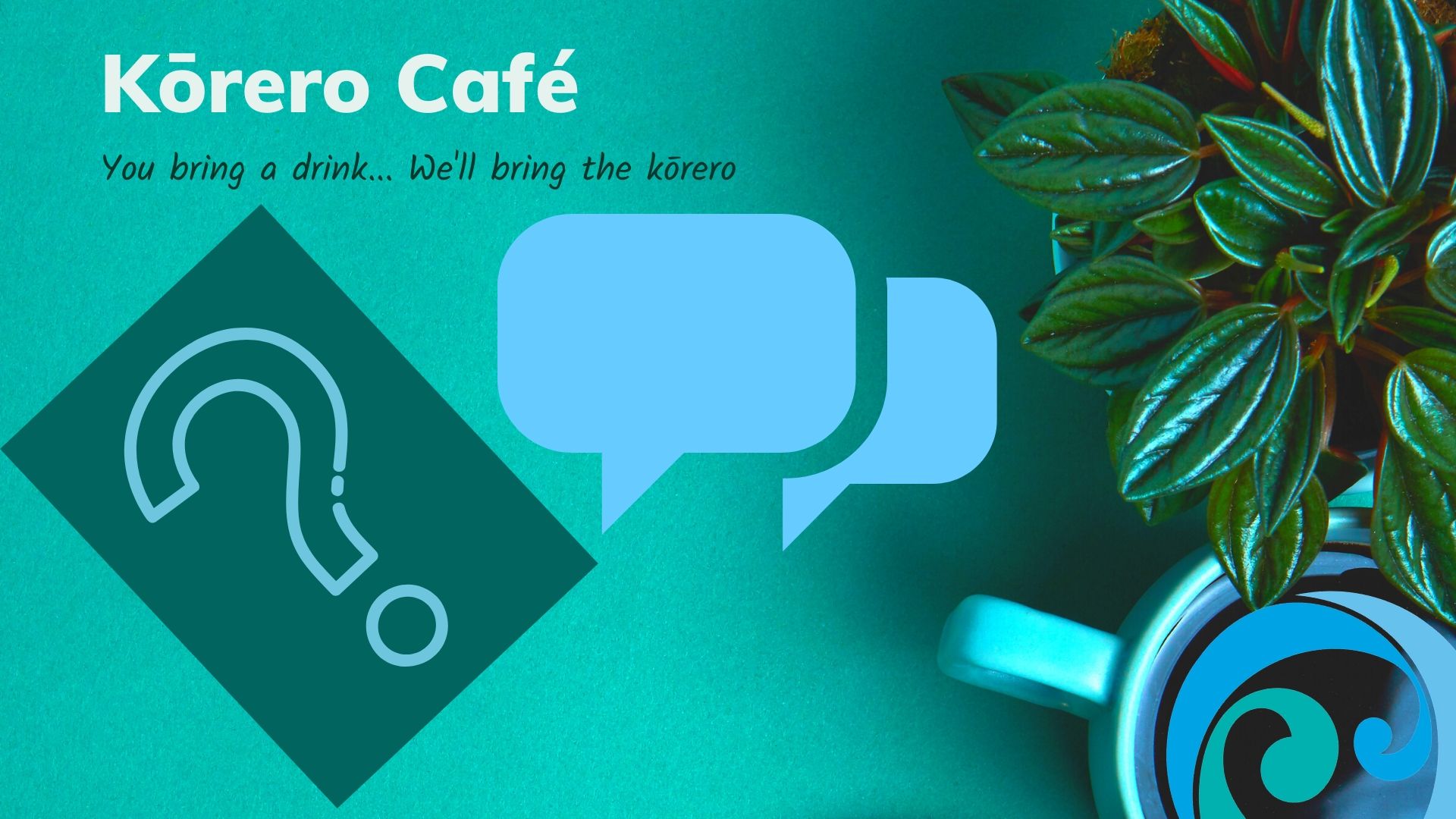 We are hosting regular online Zoom sessions where we will interview an author from Kaiparahuarahi. There are always more ideas bubbling underneath the surface and we are keen to hear what else our authors' expertise has to offer!
You're welcome to read the article in advance (not compulsory) – jot down any questions you would like to ask the author.
Make yourself a morning tea beverage (and maybe some kai).
Connect in via Zoom and join us for a kōrero!
Check out the awesome sessions we've had over the past month!
We are pleased to announce:
Kōrero Café Session 7: Fati and Hononga!
Book it in: Thursday 28th May, 10:30 AM, register now!
As we navigate our way through Level 2 and the Aotearoa autumn weather, grab a cuppa, put on your warm woolly socks and tune in to the sweet soulful heart that is Fati Tagoai.
"Malō lava Famz, I hope this message finds you well, safe and in good health. I was blessed with the opportunity to provide a perspective on Hononga through our Kaiparahuarahi journal, and now I am humbled to talanoa this perspective orally. In the spirit of Hononga, I would love to 'connect' with you all through our Kōrero Cafe."
Check out Fati's article from Kaiparahuarahi No. 2 right here.
---
---
Previous Kōrero Café Sessions:
6: Jono and Whanaungatanga
Hear how Jono Harrison of Dannevirke fame, utilised whanaungatanga in a rural context!
Kia ora, I wrote the article on whanaungatanga with the input of the team at TCYS and also some of the amazing rangatahi of Tamaki Nui A Rua. Join me on Thursday to explore this with me more! – Jono Harrison
Check out Jono's article from Kaiparahuarahi No. 2 right here.
---
5: Youth Week Special with the Classification Office
Hear about the amazing work the Classification Office are doing with their Youth Advisory Panel! Their young people are speaking and they are listening! We're excited to interview Georgia and Caitlin and the wisdom they have to share!
"Hey, we are Georgia and Caitlin from the Classification Office. We are passionate about getting young people involved in the work we do because they have the energy and ideas to make things better. Our Youth Advisory Panel helps our office respond to media related issues that impact on young people in New Zealand. Come along to Korero cafe to find out more!"
Read the excerpt from Kaiparahuarahi No. 2 right here.
---
4: Mana, Mauri & Matekino
Matekino is the kaihautū for Ara Taiohi and a massive voice in the creation of Mana Taiohi. He brings a wealth of knowledge on Mana and Mauri as well as the entirety of Mana Taiohi and how it all fits together. Trust us. This is not a session to be missed!
"Join me as we explore Mana Taiohi in an Ara Taiohi way. Come along and let's have a chat!" – Matekino Marshall
You can read Matekino's article from Kaiparahuahi No. 2 right here.
You can check out the recording of this kōrero!
---
3: Manaakitanga 101 with Sharon
Something about Manaakitanga really stirs our wairua and there is no better person to hear about it from than the one and only Sharon Davis. Sharon has been doing youth work in the far north for a lifetime and has story after story about the power of manaaki. We can't wait to hear more of those stories!
"Kia ora whānau, I wrote a little piece in Kaiparahuarahi called Manaakitanga 101. Looking forward to korero, koffee and kake as we explore the awesomeness of Manaakitanga from my experience and from yours." – Sharon Davis
Check out Sharon's article from Kaiparahuarahi No. 2 right here.
---
2: Whai Wāhitanga with Rod, Hannah & Sarah
Rod, Hannah and Sarah are basically part of the furniture at Ara Taiohi. They're all long-term Youth Work legends with a whole world of expertise to share with us. Together they wrote an incredible article for Kaiparahuarahi that we can't wait to hear more about!
"Rod, Sarah and I are 3 youth workers that love nerding out on Youth Participation. This korero is an opportunity to get a glimpse into the weird and wonderful minds behind our article and how it came to be." – Hannah Dunlop
You can read their article from Kaiparahuarahi No. 2 right here.
---
1: Bilal & Te Ao
Bilal is a long-time friend of Ara Taiohi and wrote us an excellent article of the place of Te Ao within the Mana Taiohi framework and will be talking about this article his story and how Te Ao fits amidst a COVID-19 context too.
"Kia ora whānau!
Join me on Thursday 16th April as we explore my piece in the second edition of Kaiparahuarahi around the principle of Te Ao. I'm keen to have some in-depth kōrero around our approaches to Te Ao in these times so bring along your suggestions, questions and some kai."
– Bilal Nasier
Read Bilal's article from Kaiparahuarahi No. 2 here.

Check out our recording of the session!