We were super lucky to have received 7 amazing designs that we think reflect our Youth Week 2020 theme: "E korero ana mātou. E whakarongo ana koutou? We're speaking. Are you listening?"
This year, due to the current social climate where we are acting to keep our community safe by deliberately distancing ourselves from our peers, groups and community, we are scheming about really cool ways to distribute printed materials before Youth Week 2020 (9-17 May)!
Thanks to all that voted! We are super excited to announce that the winning poster was designed by…
Courtney Bignell (19) – Tauranga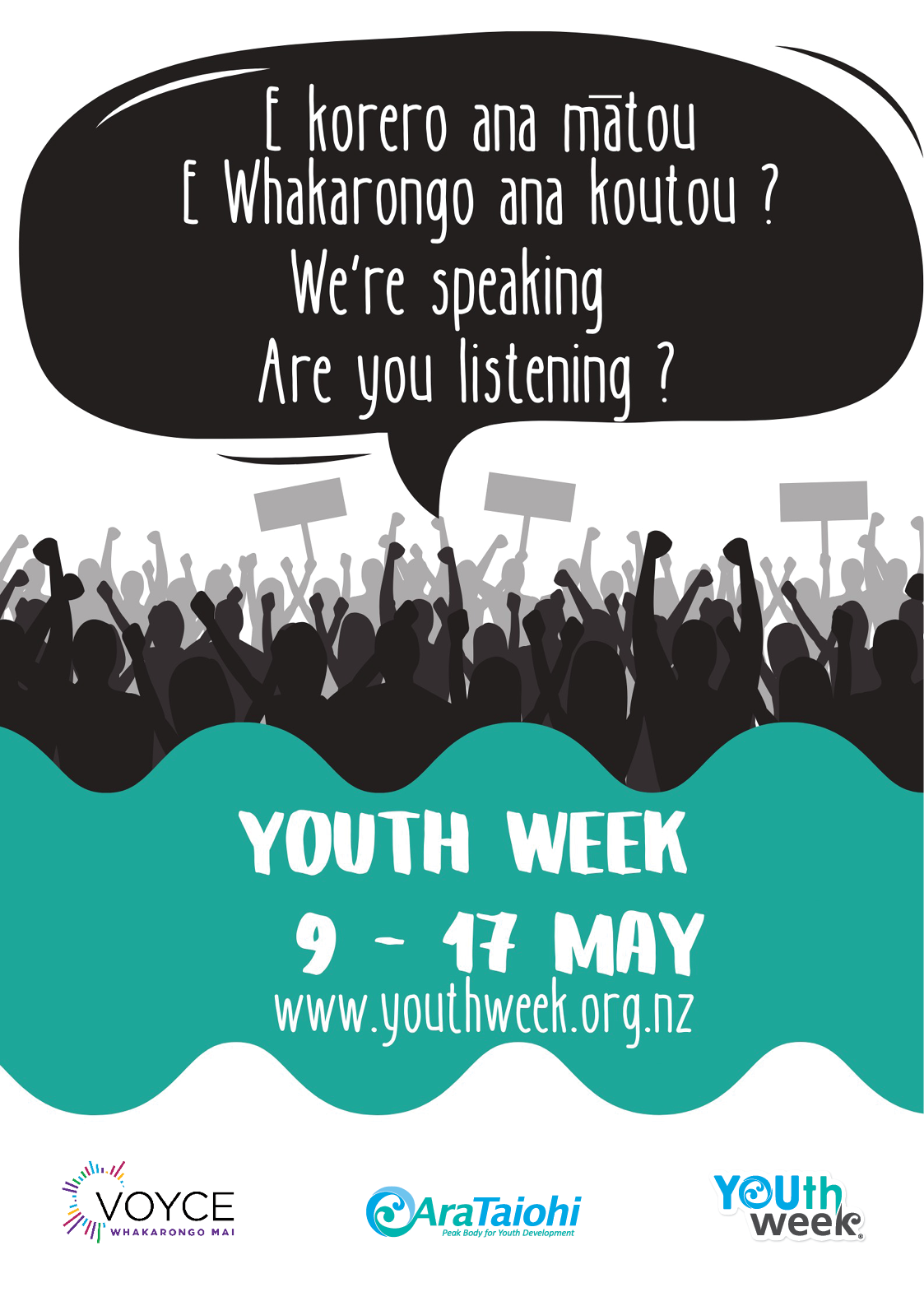 "Over recent years we have seen an increase in youth standing and speaking up for what they believe in, a youth wave as some would call it. I chose to engage with Youth Week as I believe it's important that all young people have a chance to speak up for what they believe in as well as participating in things that ignite their flame."
Congrats Courtney!
We are in the process of scheming on how best to distribute this poster all around Aotearoa – watch this space!
---
Our thanks to all of our wonderful Youth Week poster comp participants!
To see a larger version of each poster, right click the image and open it in a new window or tab.
A. Green (12) – Dannevirke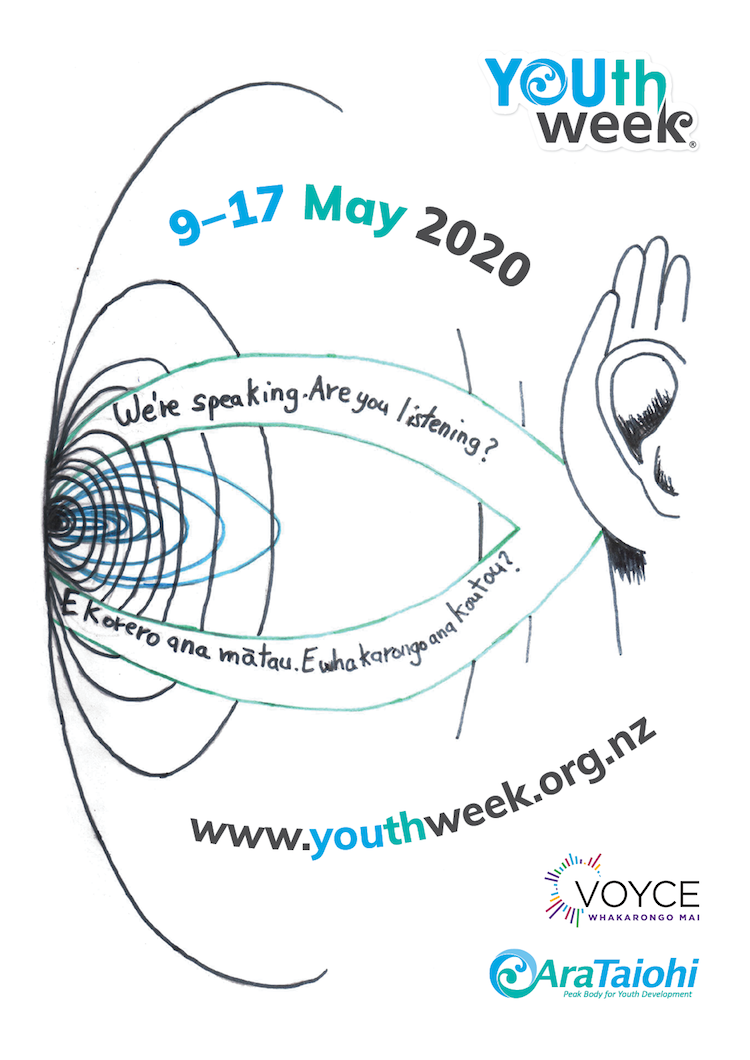 She was inspired by sound waves and wanted New Zealand Sign Language integrated as she thinks all three national languages should be equal to each other. She strongly thinks that we should be united and not separated as people group through languages. She wanted to keep the colours simple choosing [Ara Taiohi brand colours] and not give the ear any colour so everyone can be included.
Anya Hanbury-Sparrow (19) – Wellington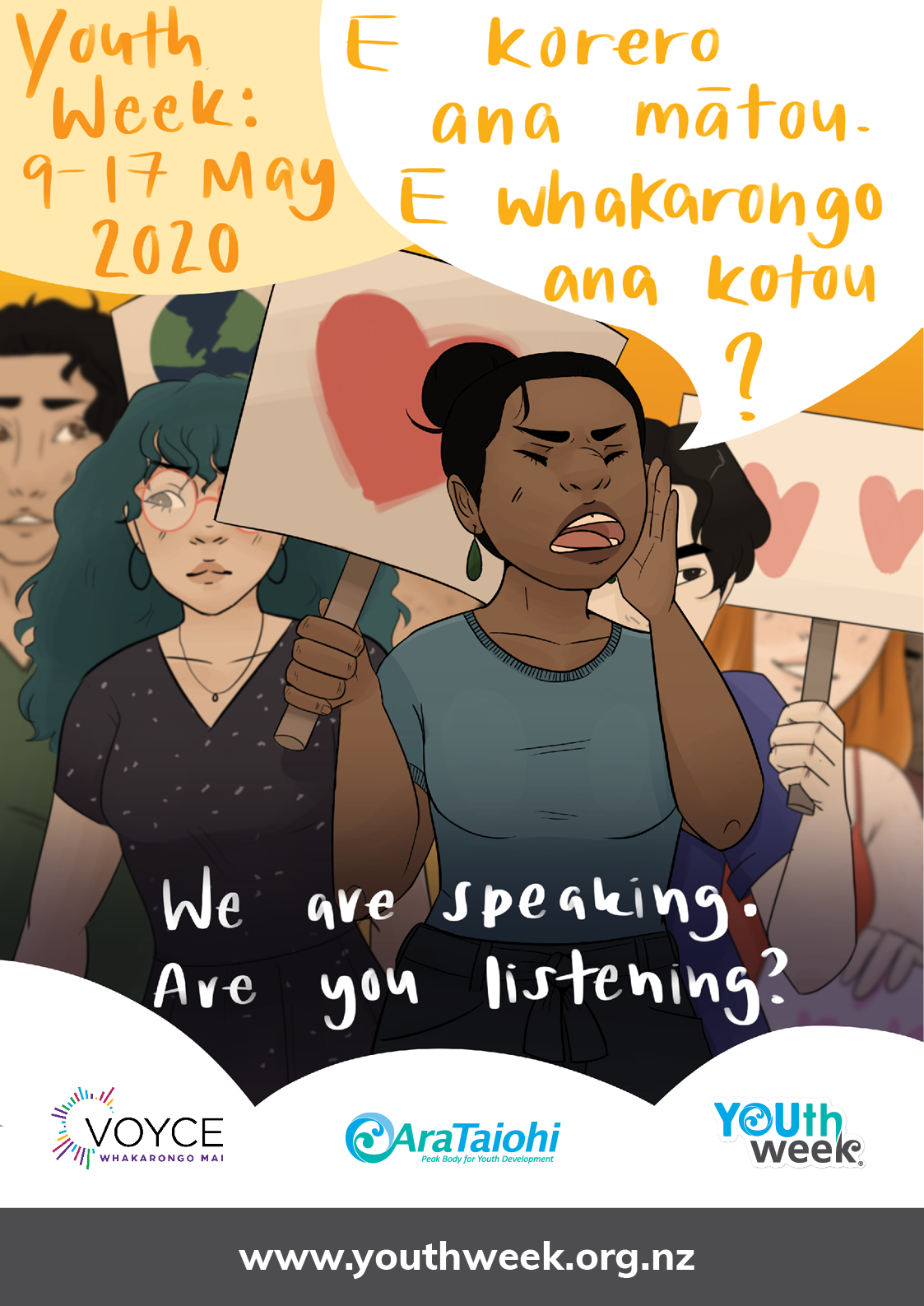 "When I saw the theme for the poster, it reminded me of the climate strikes that I attended last year where students were brought together in order to deliver a clear message. It was a really heartwarming experience and wanted to recreate something similar. I chose to participate in Youth Week because I love the idea of engaging young people and celebrating their skills as well as their further potential – a lot of the time that isn't expressed enough!"
Elsa Xu (16) – Auckland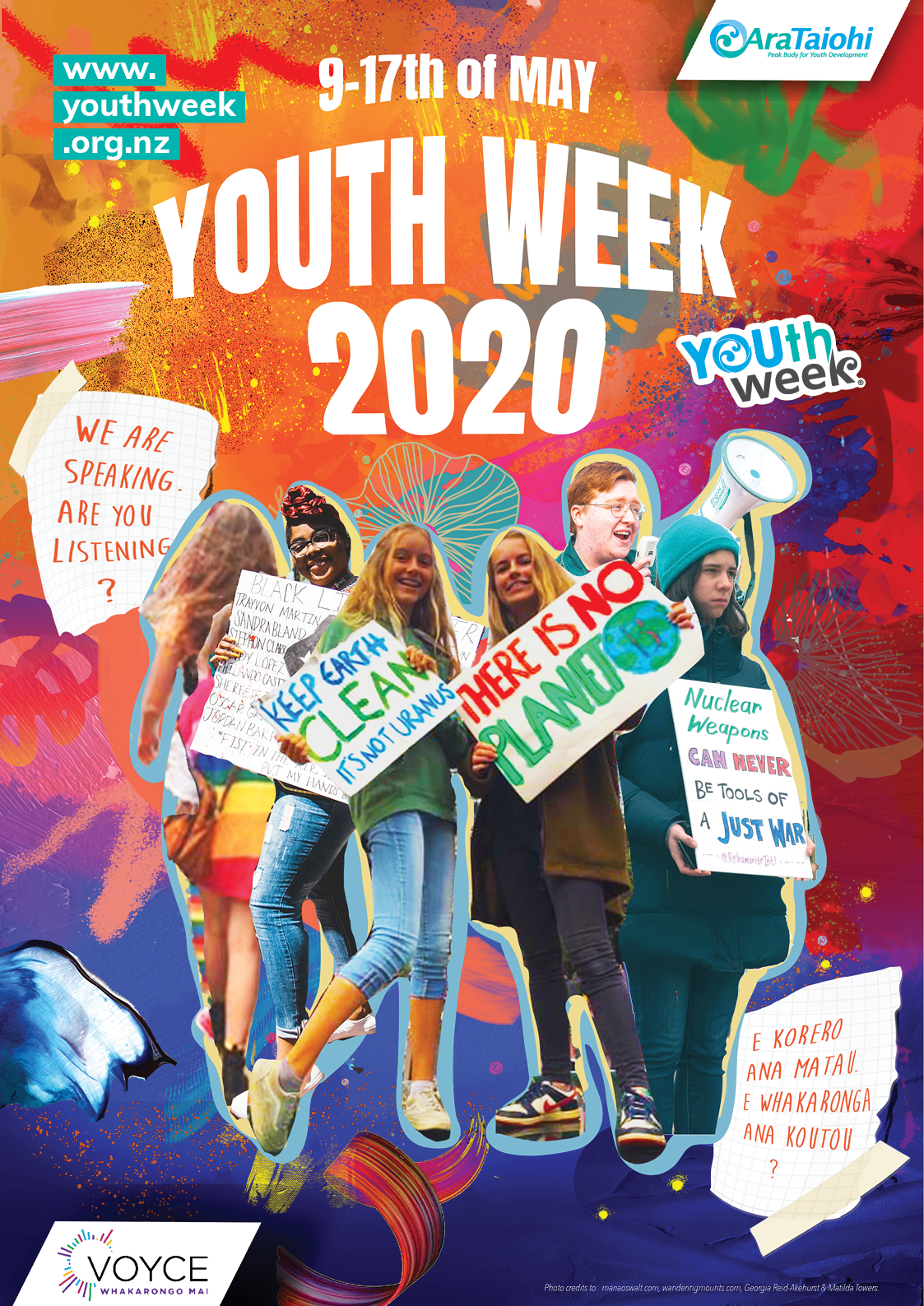 "The poster's concept speaks of the power and potential of youth activism. There are no limits to the extent of our creativity, and our talents will be the driving forces of tomorrow. The bright colours represent the exciting future that awaits us if the voices of Aotearoa's Rangatahi are listened to.
I found out about Youth Week through social media and thought it was a good platform to showcase the youth perspective."
Fatima Hael Martin (17) – Christchurch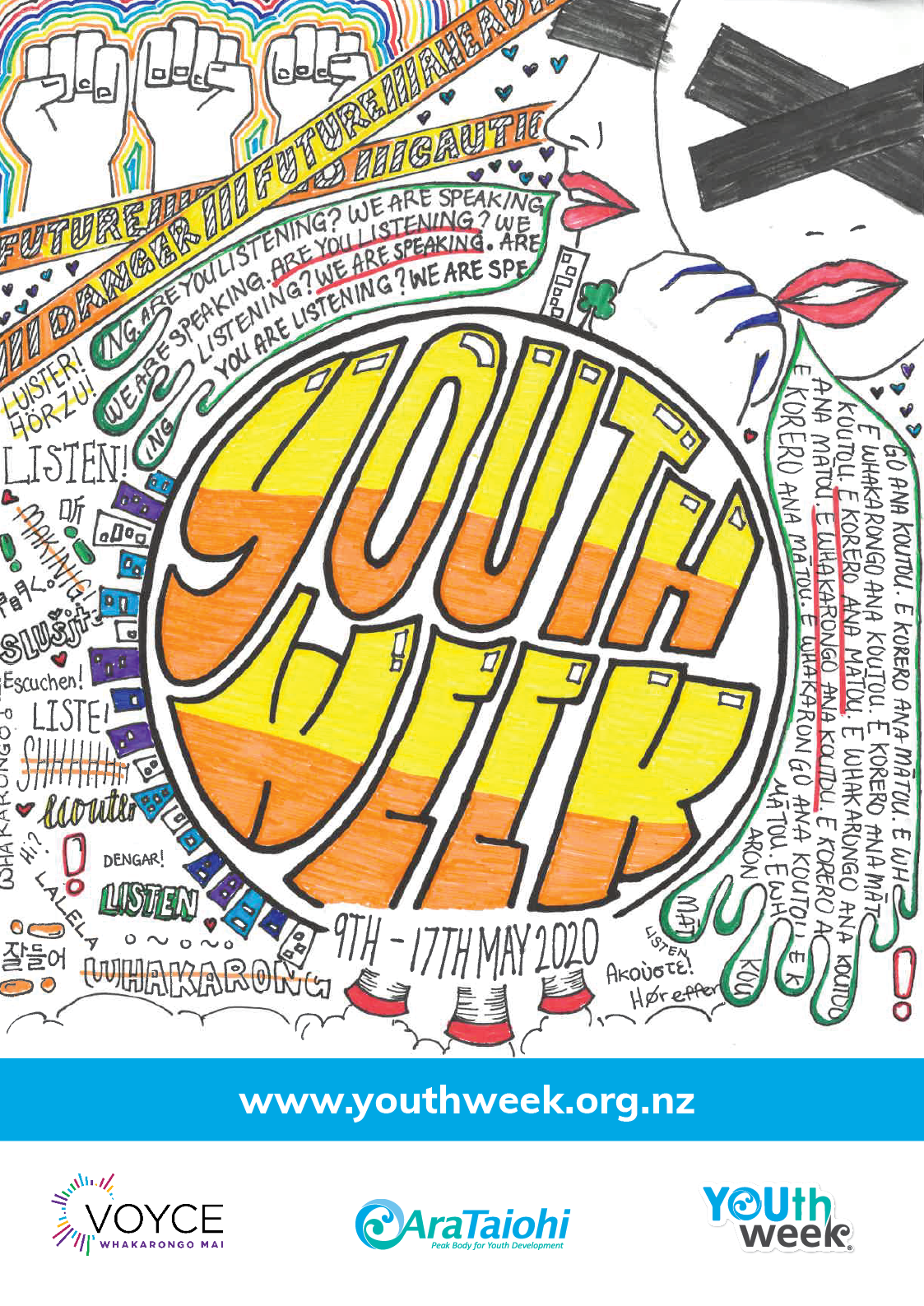 "I have chosen to participate in Youth Week's poster design competition because I believe they embody the traits that can bring the youth of this generation forwards to the future by providing us with resources to speak out for ourselves. I was inspired by the revolutionary acts of the current generation against discrimination, climate change and other injustices and the theme was such a great match with what I was going for so I tried to incorporate that into my design."
Jenny (15) and Susannah (13) – Wellington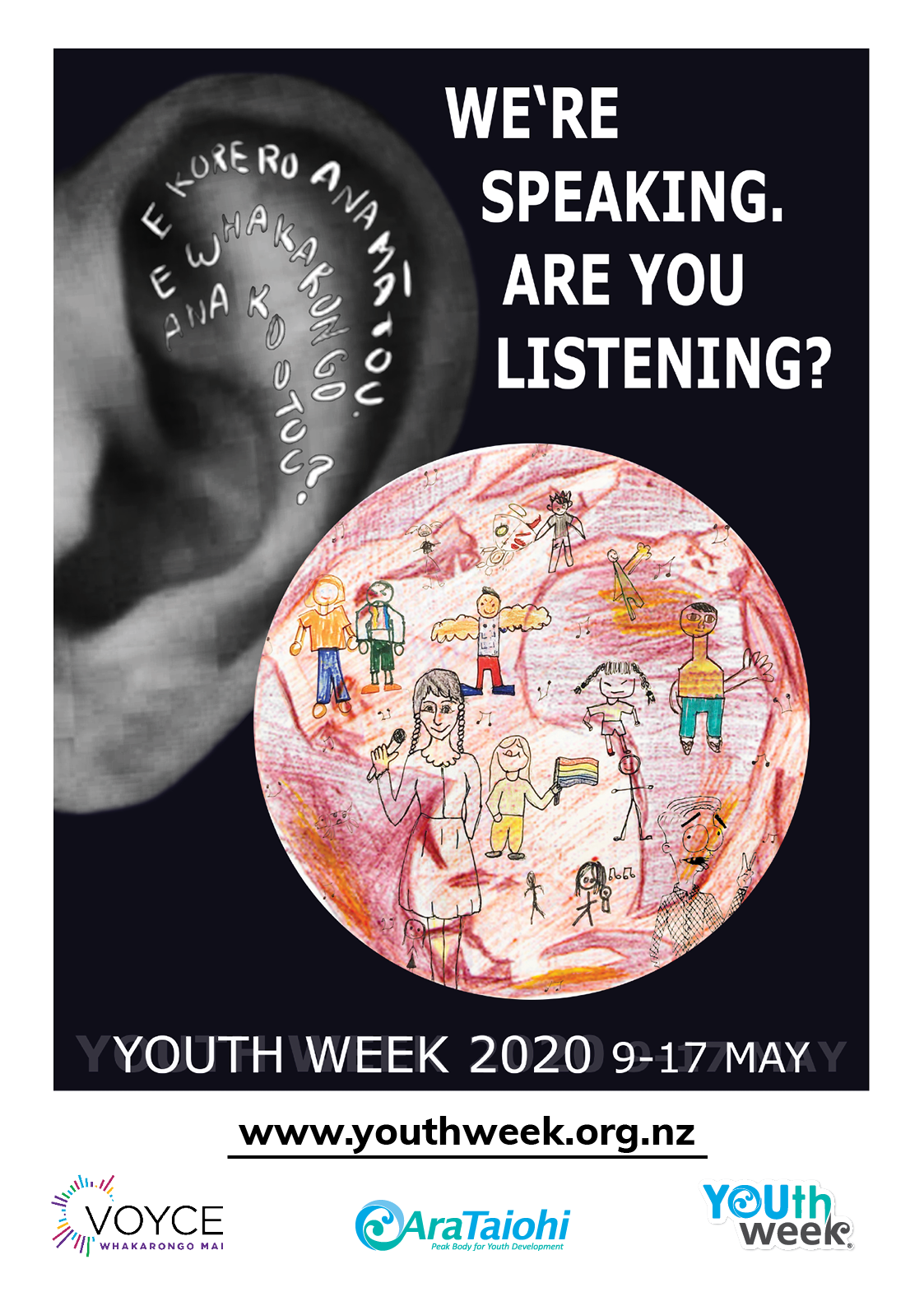 The pair decided that to create an image that showed young people from around the globe standing together and speaking with one voice. A number of young people from the Karori Youth Centre were involved in drawing the figures on the globe. As our centre is a member of Ara Taiohi, this year we decided to ebrace the opportunities given to us for Youth Week and be active participants in promoting the talent of our young people.
Juwairiyah Sahib (17) – Auckland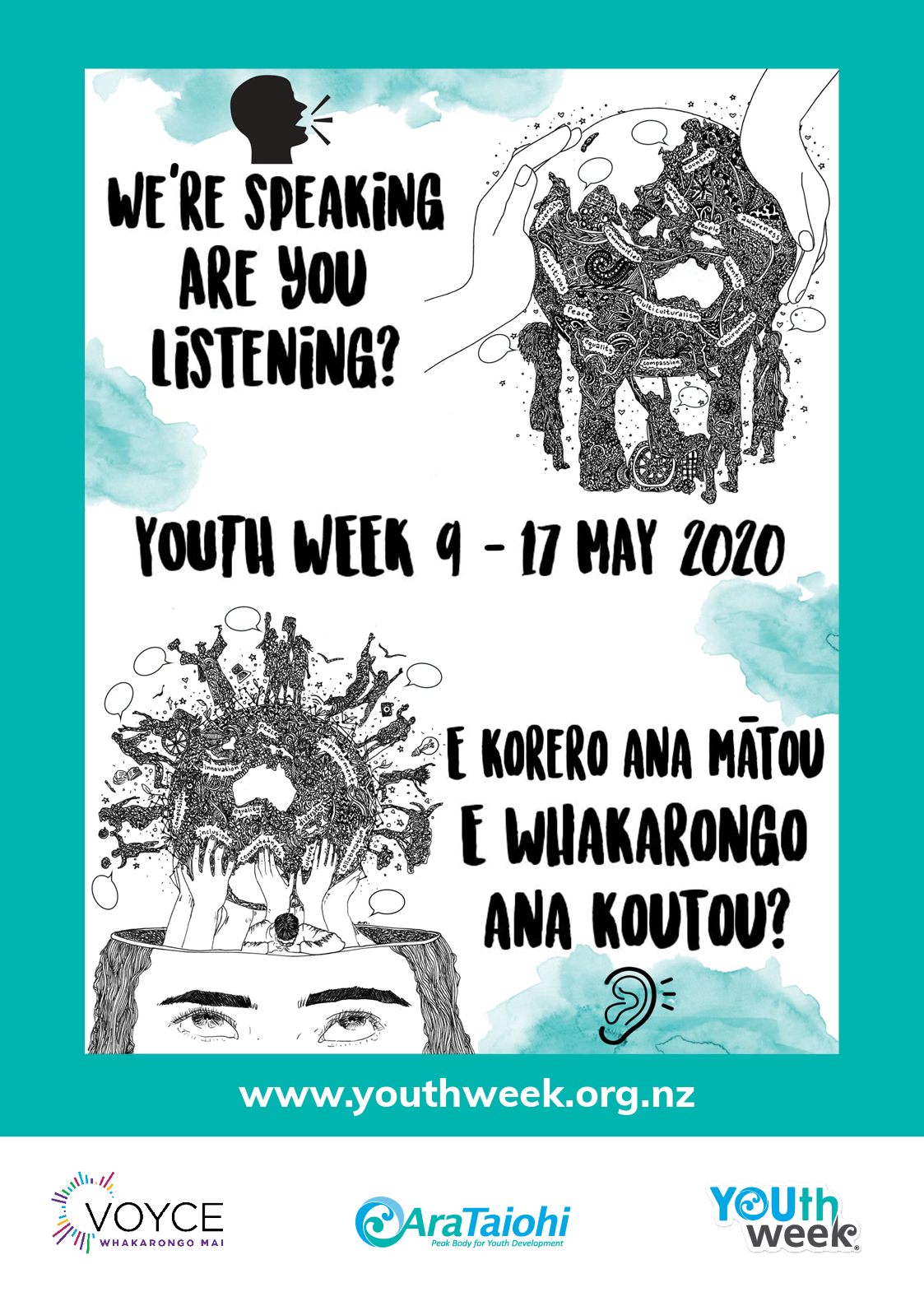 Words Bring us Together, and Silence Separates us
"My design was inspired by the theme "We're speaking. Are you listening?" as it illustrates values such as communication and our need to listen, which are essential for young individuals in our diverse society for positive change. This is important as individuals have a right to not only voice opinions but also have those opinions heard and understood, which is why I chose to engage with Youth Week!"