In celebration of International #YouthWorkWeek we highlighted some 'Champions of Youth Work in Aotearoa. You can read the full profiles of our Korowai Tupu (and soon to be) members below!
Nikki Hurst, Korowai Tupu Rōpū Co-Chair &
New Zealand Council of Christian Social Services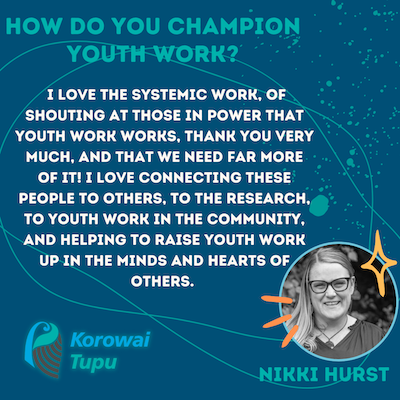 "How do you champion Youth Work?"

My brain just locked up – I was racing through my head to think of any aspect of my life in which I'm not banging on at someone about youth work… I love the systemic work, of shouting at those in power that youth work works thank you very much and that we need far more of it! I love connecting these people to others, to the research, to youth work in the community, and helping to raise youth work up in the minds and hearts of others. But also, I adored (and miss) teaching youth work – particularly finding ways for the boring (to some) theories to come alive. We HAVE to know how what we do works, and have a language to discuss, interrogate and critique it – and I loved shaping people's ability to do that. But I also love bringing it into community sport, theatre or even cornering and boring someone at a BBQ and telling them about it. And now that I've got my "youth worker" Korowai Tupu hoodie…. I'll plan on boring people in the line at New World who make the mistake of noticing it! Basically, I'm a youth work bore.
---
Astiana Trouland, Hauora Coaching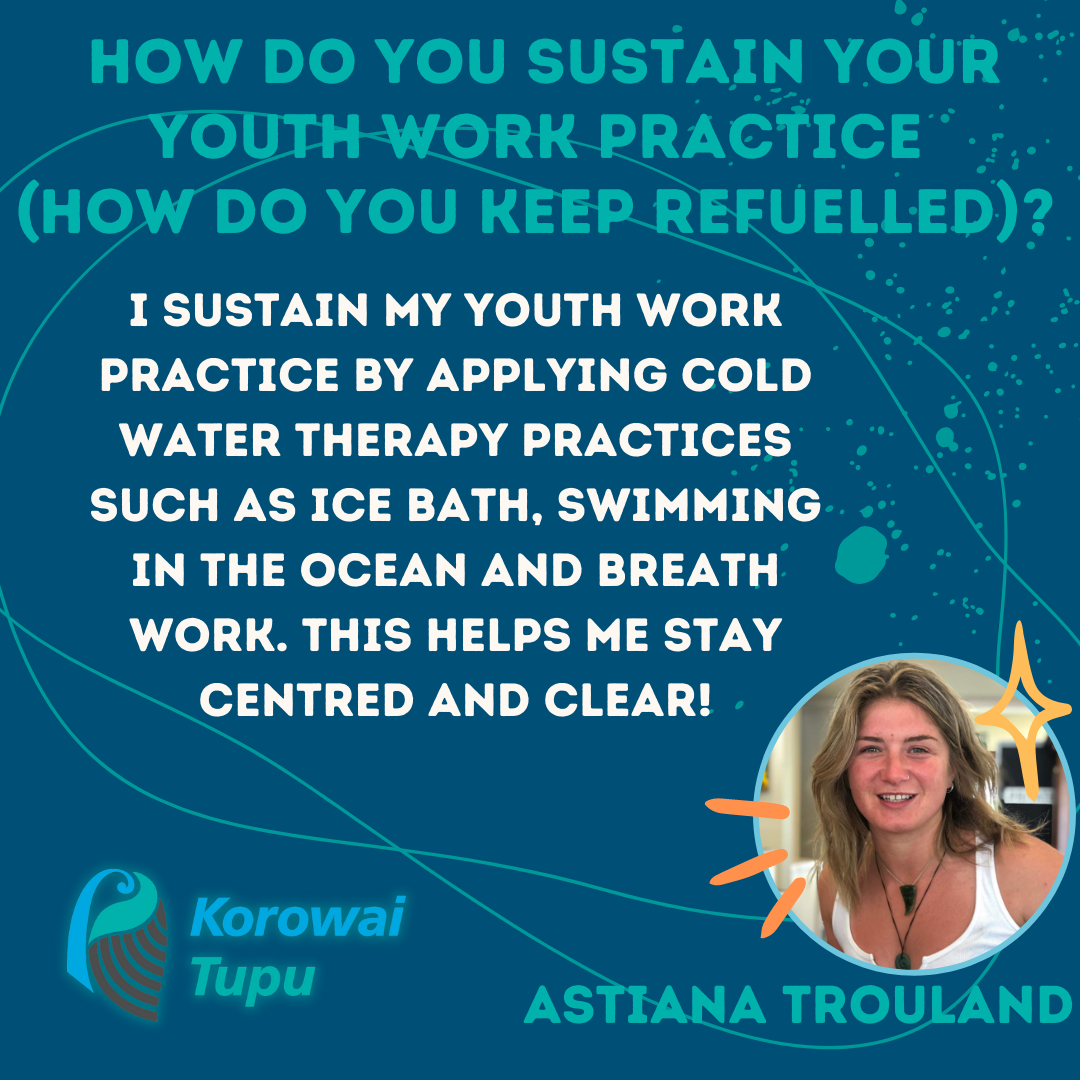 How do you sustain your Youth Work practice (how do you keep refuelled)?

I sustain my Youth Work practice by applying cold water therapy practices such as ice bath, swimming in the ocean and breath work. This helps me stay centred and clear!
---
Rae Hoogeveen, Te Rūnanga o Kirikiriroa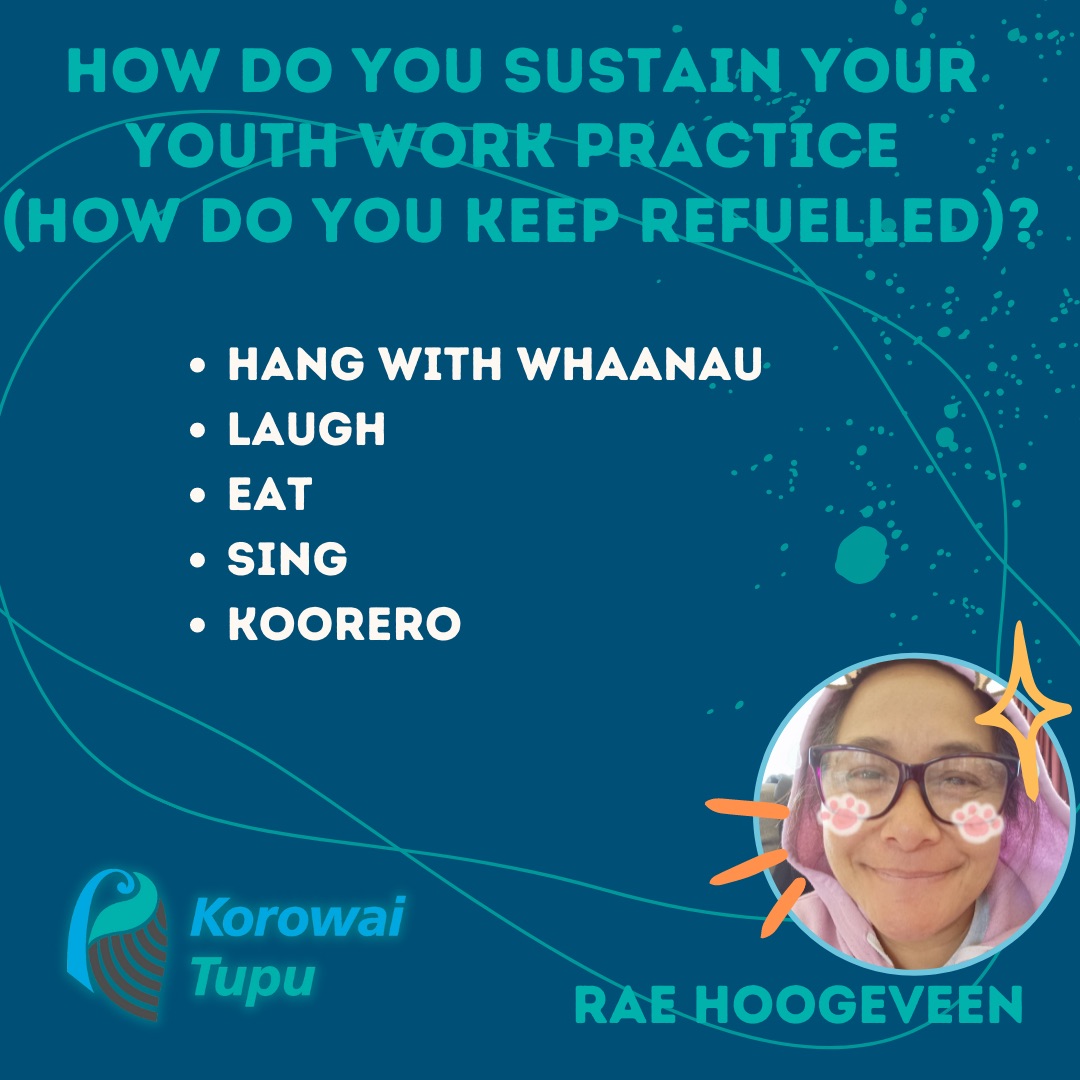 How do you sustain your Youth Work practice (how do you keep refuelled)?
Hang with whaanau
Laugh
Eat
Sing
Koorero
---
Jayne Mercier, Massey University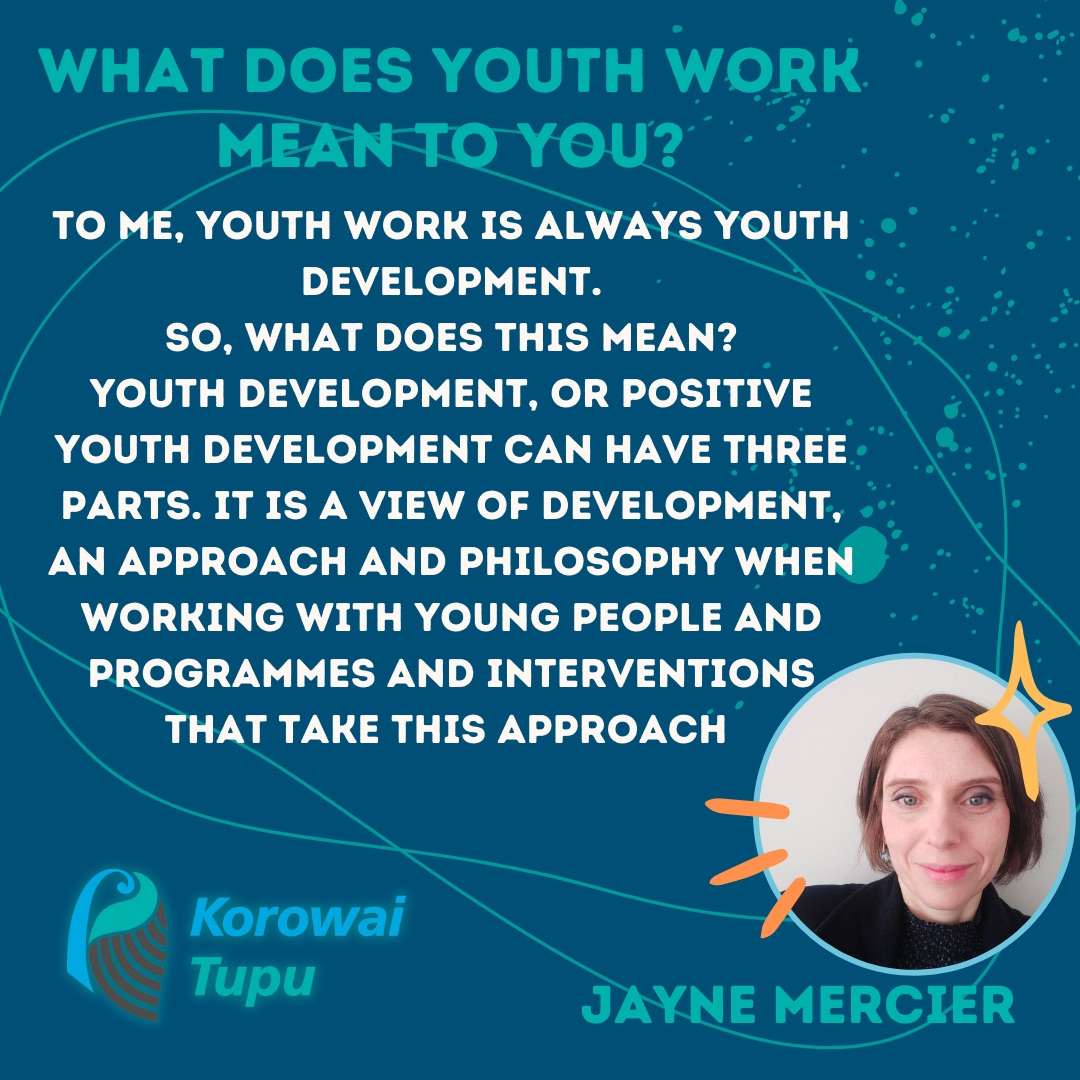 What is youth work?

To me, youth work is always youth development. So, what does this mean?
Youth development, or positive youth development can have three parts. It is a view of development, an approach and philosophy when working with young people and programmes and interventions that take this approach (Hamilton, cited in Lerner et al., 2011).
A view of development
Youth development sees development as relational. It happens in and through the connections and environments young people are part of, like whānau, school, peers, iwi and community. This relates to Hononga Taiohi and Te Ao Taiohi in the Mana Taiohi framework (Ara Taiohi, 2019). Young people develop in context and all young people can develop positively (Damon, 2004; Silbereisen & Lerner, 2007).
Young people have a part to play in their relationships and environments. They can influence their own development and that of others (Lerner, 2004). Thinking about Mana Taiohi, young people have mana and they can enhance their own and others mana (Ara Taiohi, 2019).
Because development is relational and young people have a part to play, there are lots of different paths for positive development (Lerner, 2004; Silbereisen & Lerner, 2007). This is where Mauri Taiohi comes in (Ara Taiohi, 2019). Development can follow young people's spark and there are lots of good ways to develop.
A youth development approach
Youth development believes there are things we can do to help young people develop positively (Lerner, 2005). Based on the ideas about development described above, youth development and youth work takes the following approach:
Because everyone can develop positively and there is no one right way, youth workers are strengths based. We use Manaakitanga to enhance young people's spark, strengths and capabilities (Ara Taiohi, 2019).
Because development happens in relationships, youth workers connect young people to people and things that support their strengths. This is about Whanaungatanga (Ara Taiohi, 2019). We use our relationship with young people to help them build more positive relationships that will support their strengths.
Because young people are active in their own development, we use Whai Wāhitanga (Ara Taiohi, 2019). Youth workers never do things to young people, things are done by and with young people. Even involuntary youth work relationships are partnerships where the young person has some choices.
Youth work is always guided by the Mātauranga of youth development and its ways of being with young people. It is this combination of the view of development and approach that means youth work might look like lots of different things in different places but always has the same underlying ideas. Sticking to these ideas and ways of being is what defines youth work for me. Others may be able to step in and out of these practices or shift their focus from the young person, but youth work is always consistently in a youth development space. In short, youth work always enacts Mana Taiohi. References below.
---
Charlie Eggleton, Korowai Tupu Rōpū Co-Chair & NZ Red Cross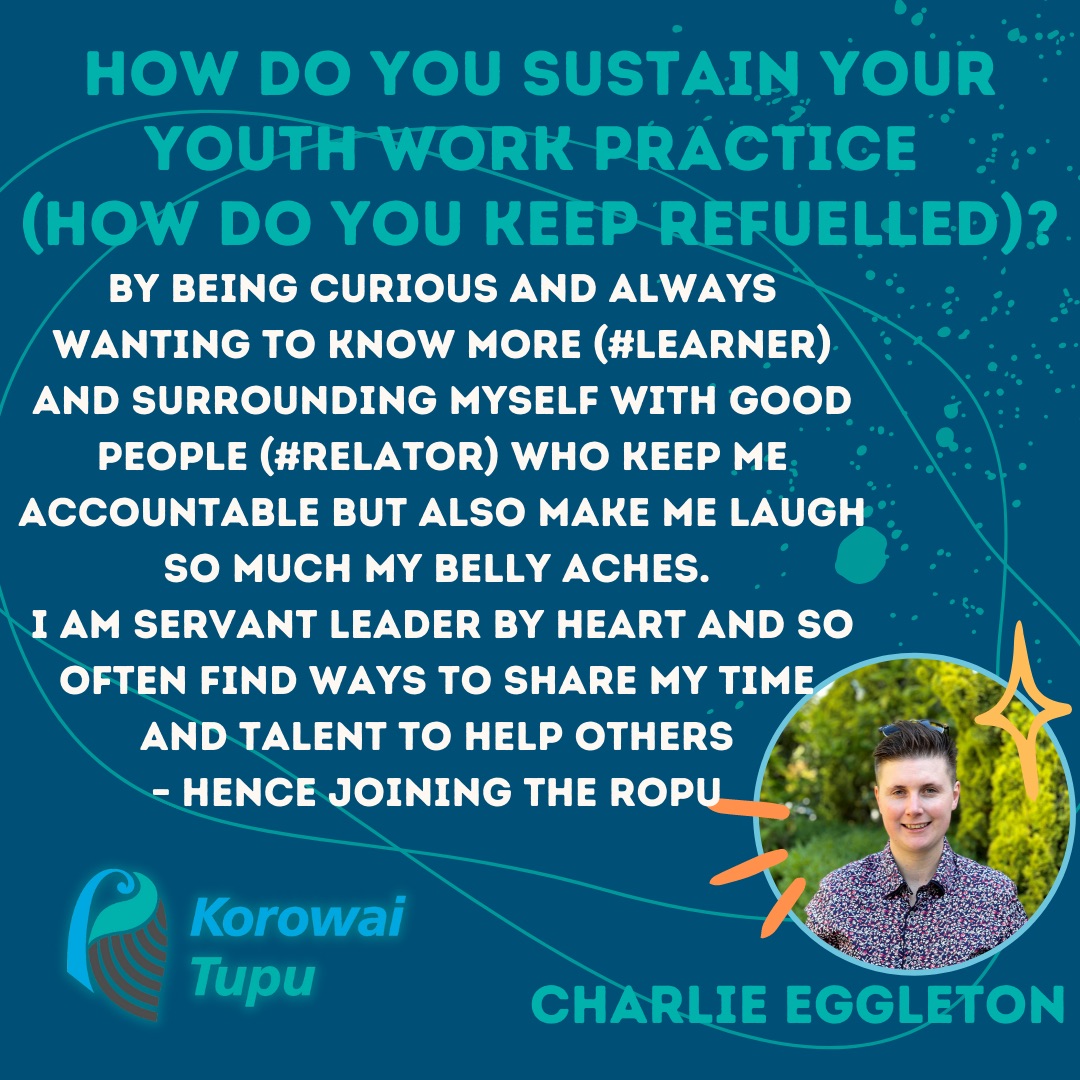 How do you sustain your Youth Work practice (how do you keep refuelled)?

Coffee, delicious kai and Banter… Kidding well kinda. I keep refuelled by being curious and always wanting to know more (#Learner) and surrounding myself with good people (#Relator) who keep me accountable but also make me laugh so much my belly aches. I am servant leader by heart and so often find ways to share my time and talent to help others – hence joining the rōpū.
---
Lorna Gray, Anglican Church in Aotearoa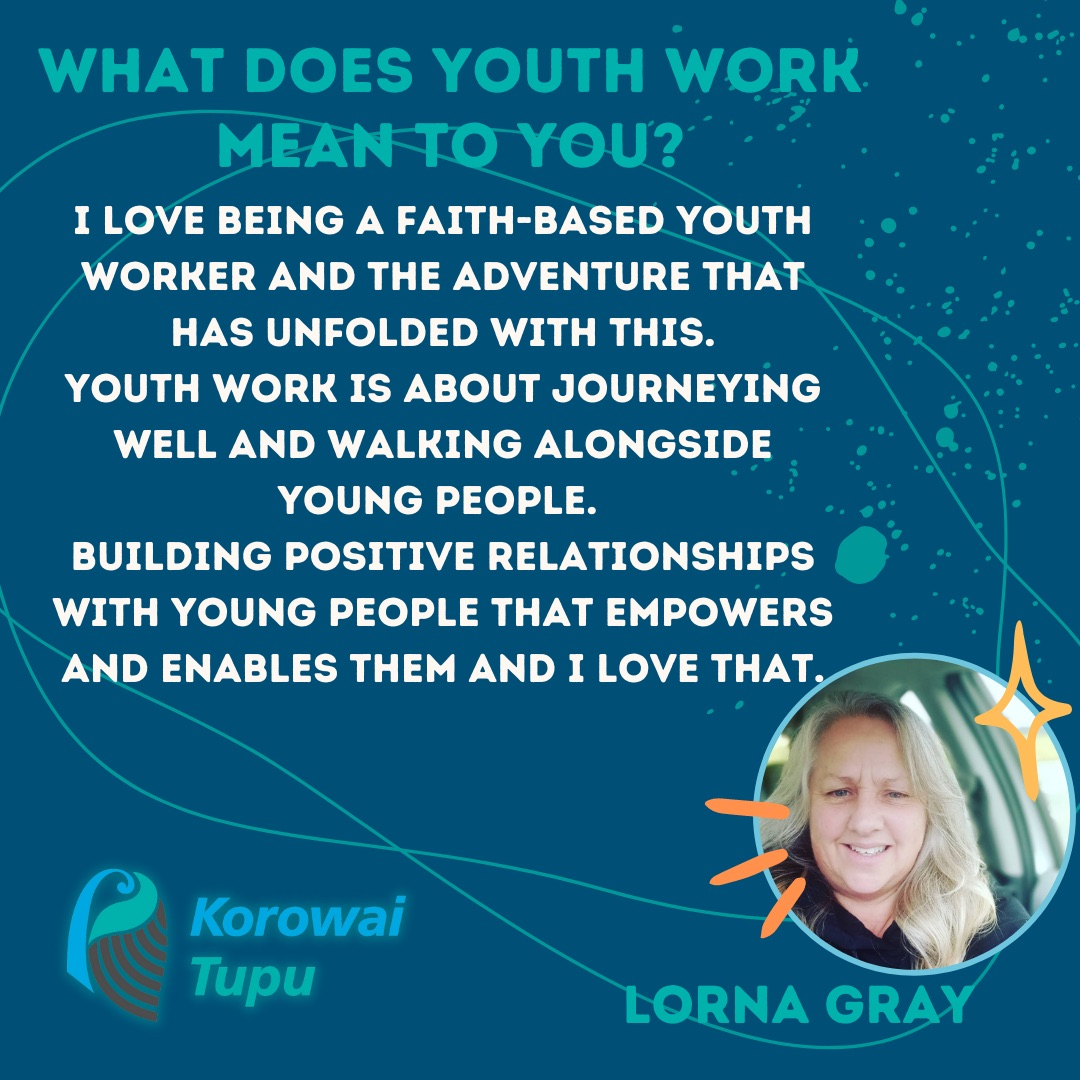 What does Youth Work mean to you?

I love being a faith-based Youth Worker and the adventure that has unfolded with this. Youth Work is about journeying well and walking alongside young people. Building positive relationships with young people that empowers and enables them and I love that. Many people connect with young people for different purposes. Youth workers connect simply to walk with them as they do life. Everyone needs safe people in their lives that they can trust.Everyone needs people who get them and believe in them and when needed advocate for them. Youth workers get to be those people to young people. It's such a huge privilege to be someone walking and working with young people. We need to do it well and be accountable for how we do it. We need to equip ourselves to be those people in the best way possible.

Korowai Tupu is a vital part of doing Youth Work well in Aotearoa. Being a Youth worker, and building up others to do it well, is important, like I said it's a privilege. Right now I get to journey with the youth workers in the Anglicans and help to develop and encourage safe Youth work practice with them, and I love that. Youth Work is vital and it's so important we do it well It's like life, it can be fun, it can be surprising, it can be challenging, and at times incredibly sad. It will never ever be is boring!! Of all the choices I have made in life, training to be a youth worker and choosing to walk with young people and others who are doing the same, best decision ever. Being a youth worker, walking with young people, it's the best!
---
Lisa Hann, Careerforce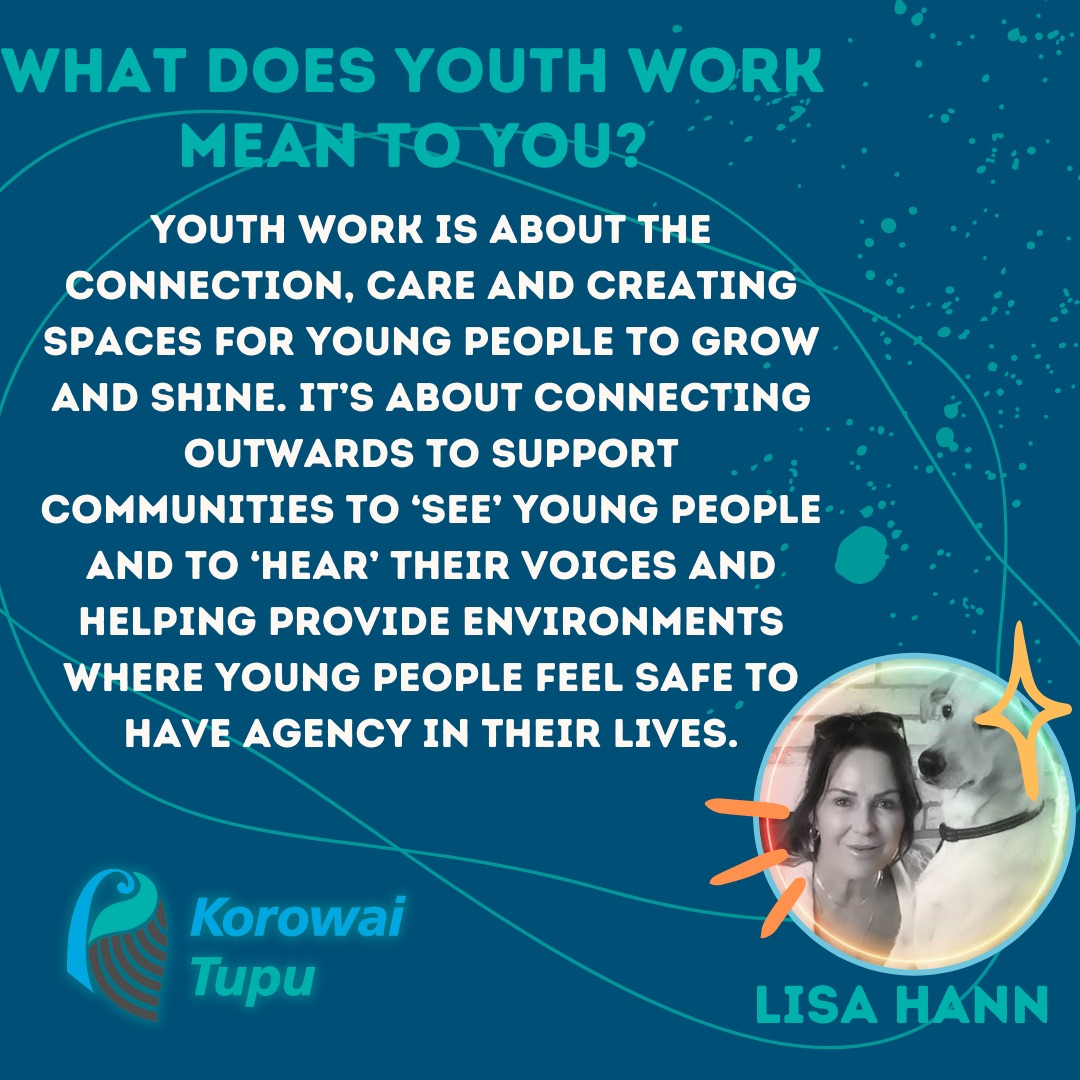 What does Youth Work mean to you?

"We're Stronger Together – and this is more important now than ever. Youth Work Week to me is about promoting the voice of Taiohi in Aotearoa and Youth Work is about the connection, care and creating spaces for young people to grow and shine. It's about connecting outwards to support communities to 'see' young people and to 'hear' their voices and helping provide environments where young people feel safe to have agency in their lives. The voice of youth is often lost in the noise of society today and the practice of youth work creates time to be present, listen and to stand with young people, encouraging, supporting and celebrating their stories and gifts that they bring to the table."
---
Sarah Finlay-Robinson, InCommon Projects NZ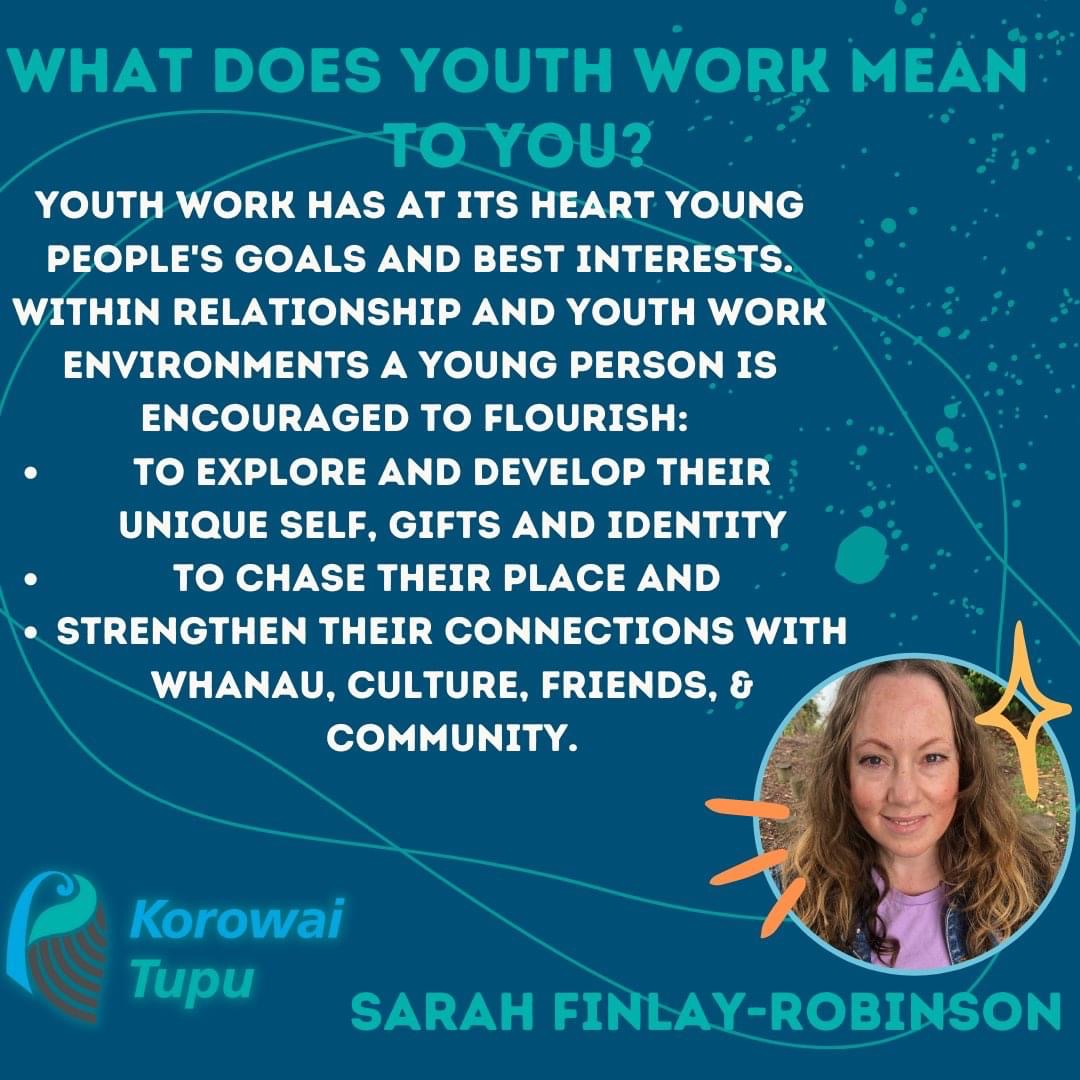 How do I sustain my Youth Work Practice (keep refuelled)?

What refreshes me is discovering new approaches and reflecting on my practice. I have a number of friendships born through youth work environments and events that keep me true to what matters most. I have a great supervisor! I find supervision sessions are a wonderful place for reorienting my practice, my focus and my energy. The last couple of years have seen some real challenges personally and professionally. I have found supervision to be a space in which I can bring my whole self and really walk away with a sense of hope, joy and renewed passion for my practice (disclaimer – I am a youth work supervisor). I want to mihi to youth workers in Tāmaki Mākarau and Waikato under the Rahui who have been working to pivot and innovate how they engage with young people and meet their needs, all while juggling the realities of lockdown life. Ngā mihi kia tatou. You are light and an inspiration.
What does Youth Work mean to you?

Youth work has at its heart young people's goals and best interests. Within relationship and youth work environments a young person is encouraged to flourish: to explore and develop their unique self, gifts and identity to chase their place and strengthen their connections with whanau, culture, friends, & community. Youth workers create safe spaces for young people to speak up and be heard on issues that matter to them. Youth workers are navigators and illuminators, enabling young people to read themselves, navigate life, access resources, find their place, and transform the world through action.
---
Isabel Lemanutau, The Salvation Army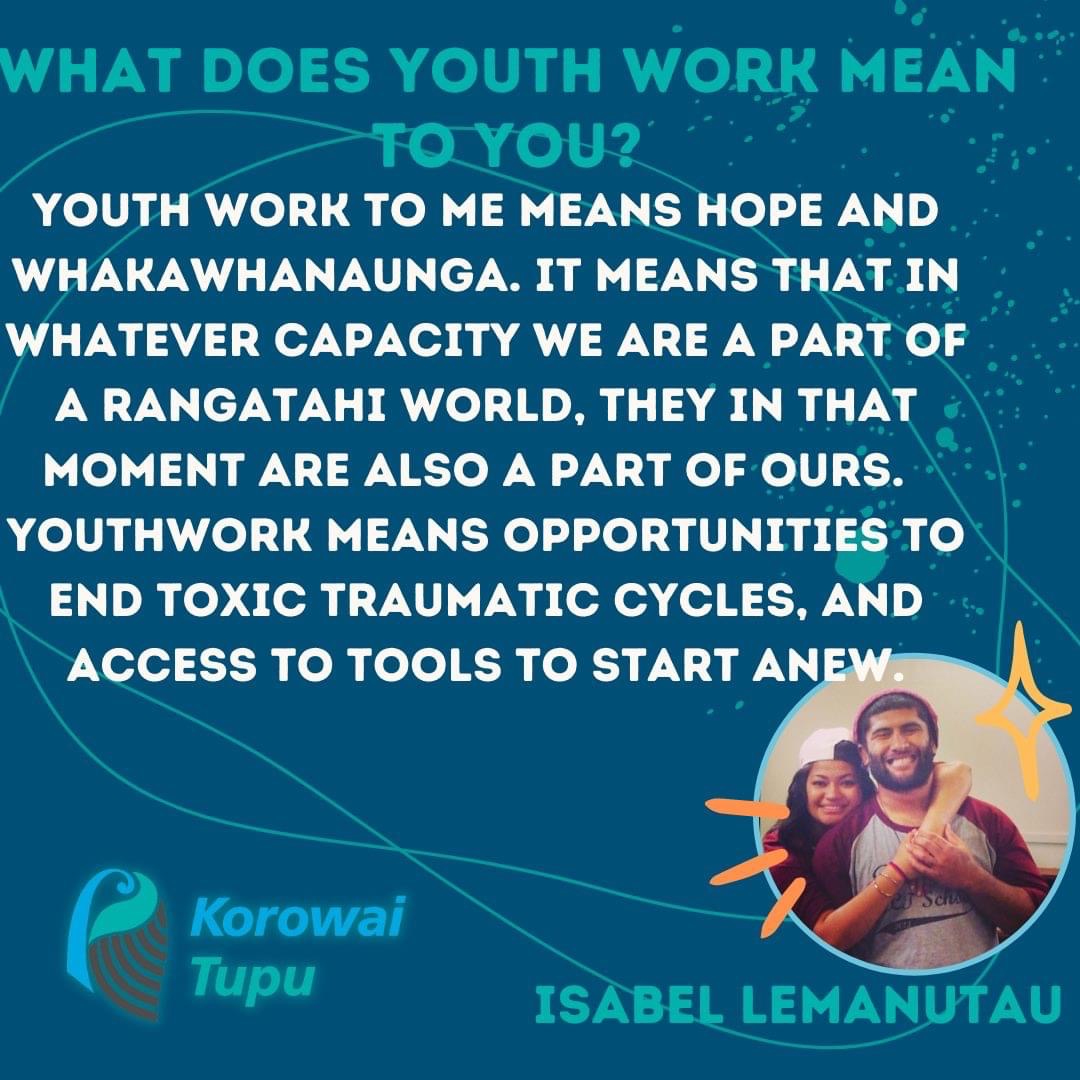 What does Youth Work mean to you?

Youth Work to me means Hope and whakawhanaunga. It means that in whatever capacity we are a part of a rangatahi world, they in that moment are also a part of ours. We carry them in our spirit and we pray for them more than we pray for ourselves at times, we weave them into our everyday lives and we hold dreams and hopes for their futures. Youth Work means opportunities to end toxic traumatic cycles, and access to tools to start anew. Youth Work is part of the DNA of my whanau, from camps to respite, it's has been a whanau effort to make Youth Work our lifestyle.
---
Rod Baxter, The Princes Trust, New Zealand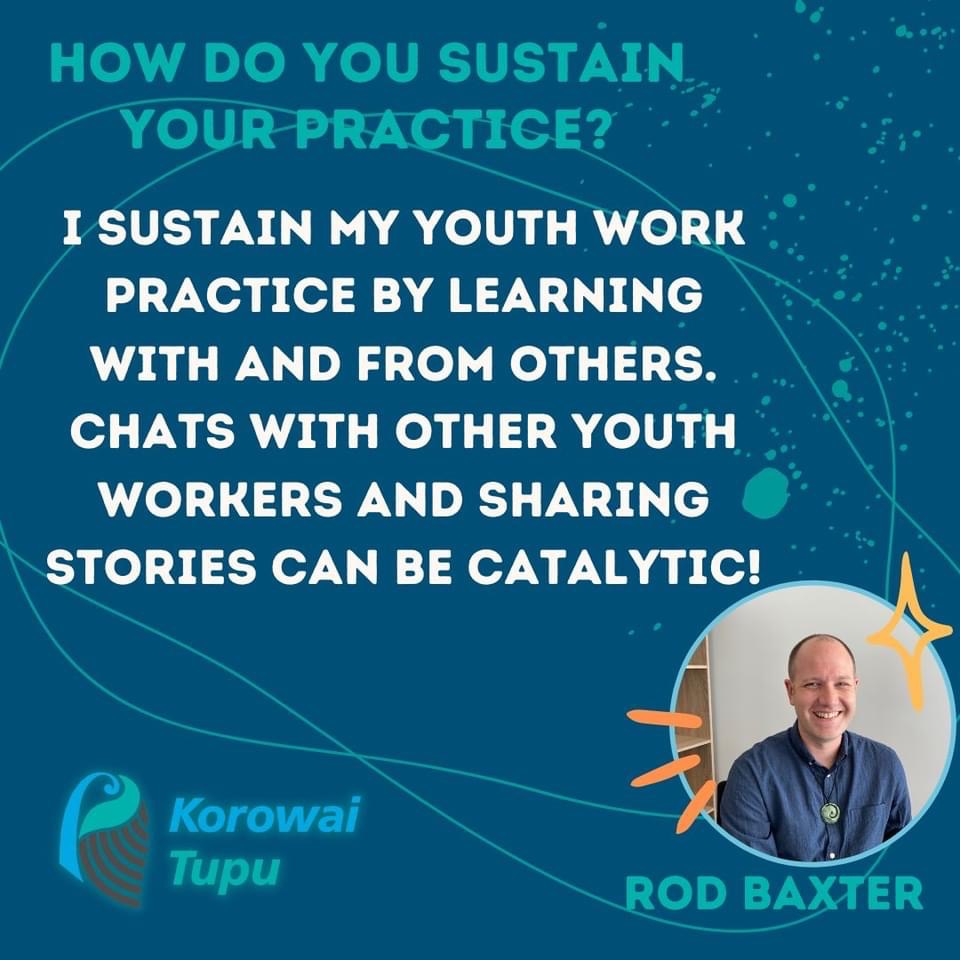 How do you sustain your youth work practice?

I sustain my youth work practice by learning with and from others. Chats with other youth workers and sharing stories can be catalytic!
---
Chloe Bisley-Wright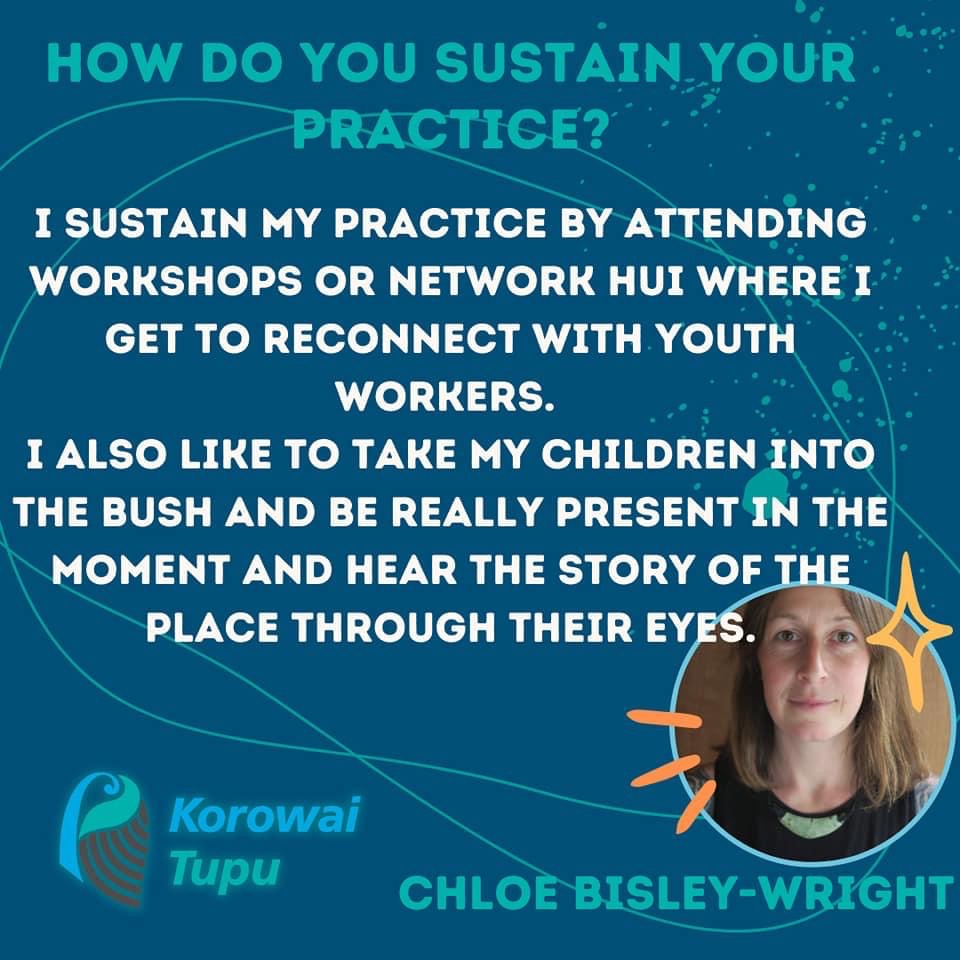 How do you sustain your Youth Work practice (how do you keep refuelled)?

I sustain my practice by attending workshops or network hui where I get to reconnect with youth workers. It really helps me to feel energised, informed and gives me a sense of belonging. Shout out to the MC's of Ara Taiohi's AGM – Talei and Arohanui you made it so much FUN! I also like to take my children into the bush and be really present in the moment and hear the story of the place through their eyes.
---
Jacques Du Plessis, Youth Services, MSD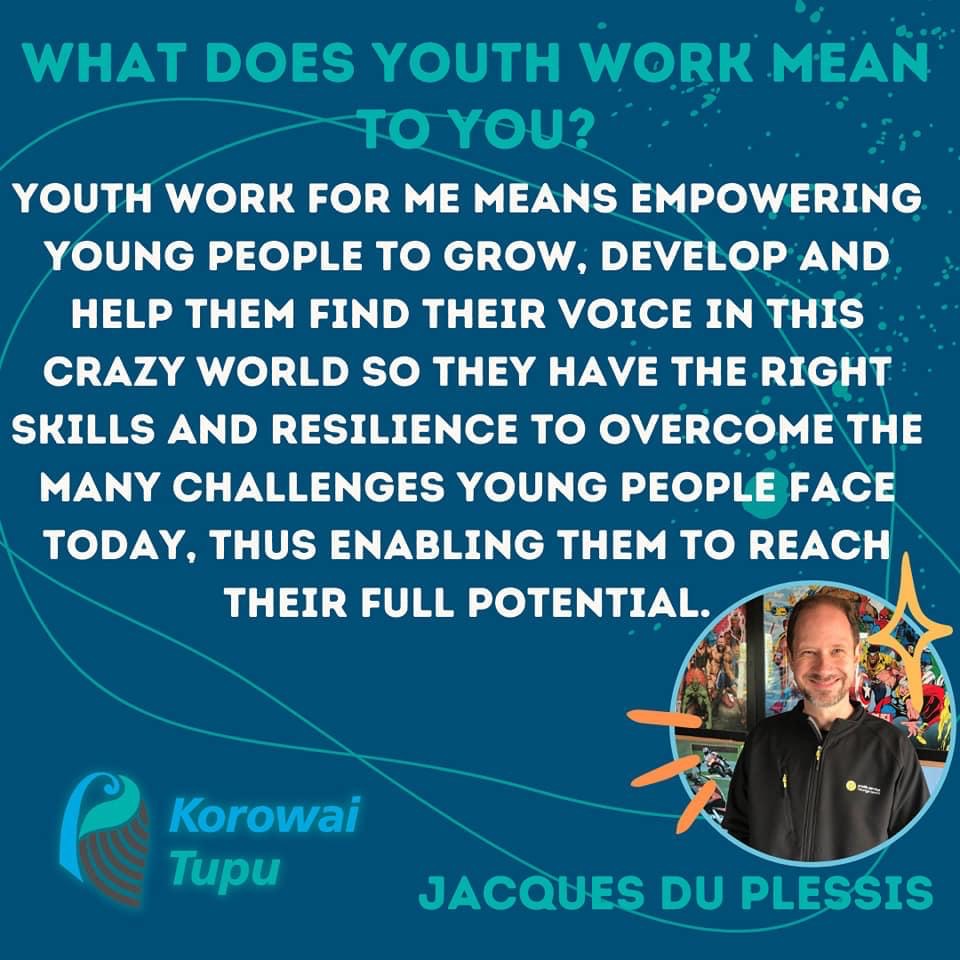 What does Youth Work mean to me?

I work in a team of 11 fantastic "Youth Development Specialists" Youth Work for me means empowering young people to grow, develop and help them find their voice in this crazy world so they have the right skills and resilience to overcome the many challenges young people face today, thus enabling them to reach their full potential. I am very humbled to walk part of their journey with them. I think of the big influence Youth Workers had in my life growing up, how they helped shape me and I aim to have that same impact in the lives of today's young people! I see myself as being very privileged and blessed to be serving the rangatahi of Wellington.
---
JD Douglas, Central Youth Services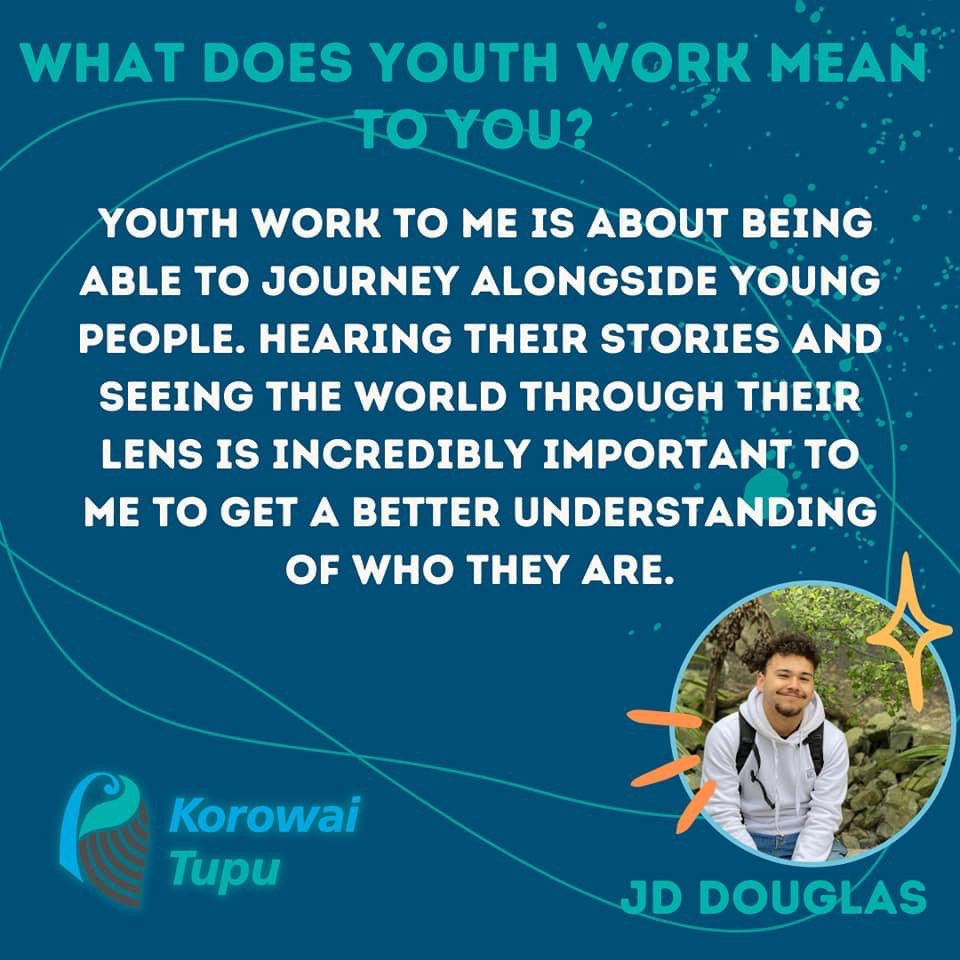 What does Youth Work mean to you?

Youth Work to me is about being able to journey alongside young people. Hearing their stories and seeing the world through their lens is incredibly important to me to get a better understanding of who they are.
---
James Scarlett, Pathways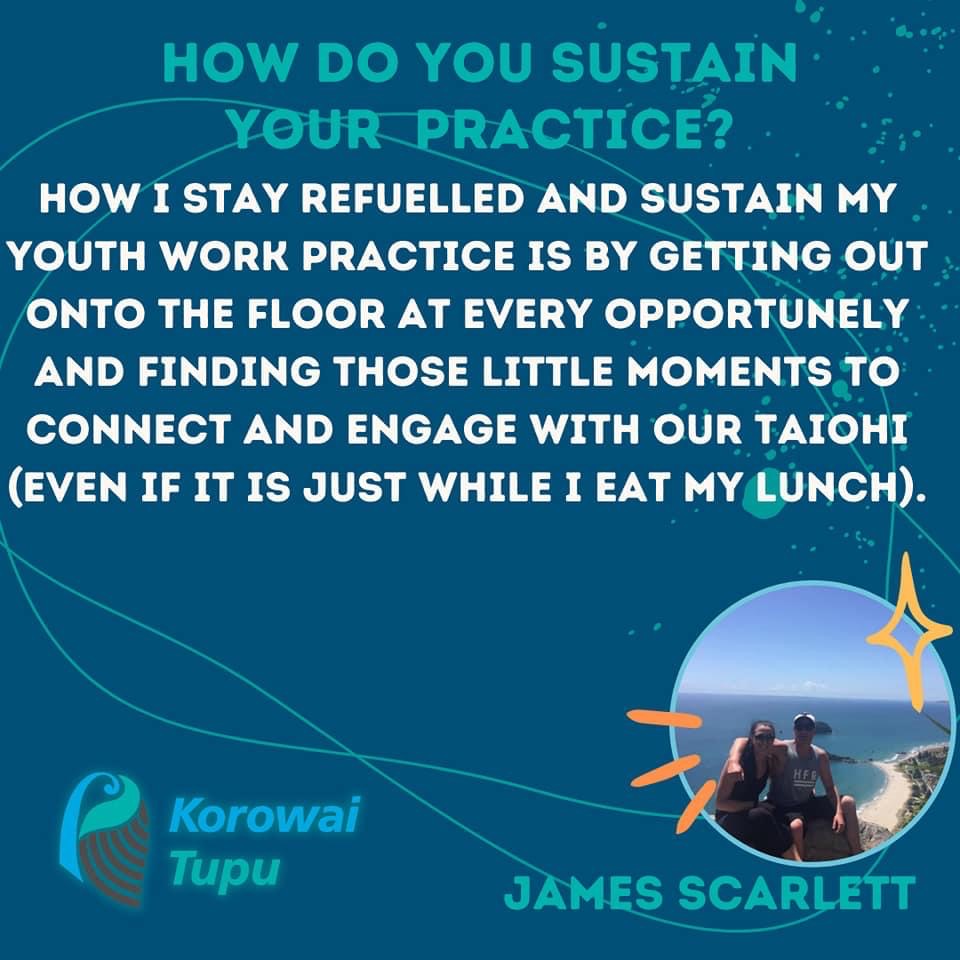 How do you sustain your Youth Work practice (how do you keep refuelled)?

In my current role as a Team Leader at a Youth Mental Health Respite I find myself stuck behind a computer in the office at our whare for the majority of the day. How I stay refuelled and sustain my Youth Work practice is by getting out onto the floor at every opportunely and finding those little moments to connect and engage with our Taiohi (even if it is just while I eat my lunch).Sometimes it's even just observing one of the team members having an intentional, deep and meaningful conversation where you can seeing the makings of a breakthrough happening or as simple as a light and jovial card game with loads of smiles and laughter. It is in witnessing these little moments that I am truly refuelled.
---
Melissa Martin, Oranga Tamariki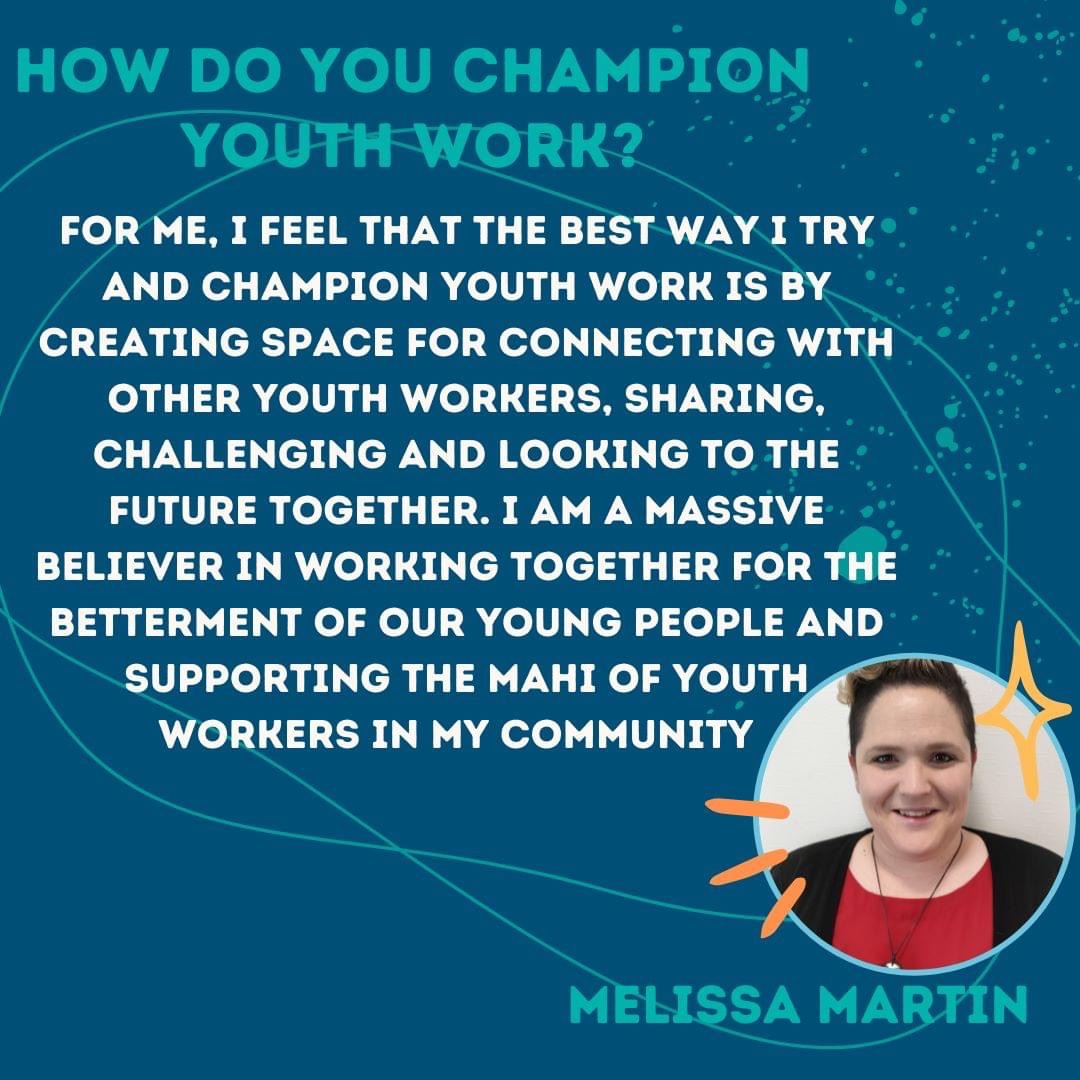 How do you champion Youth Work?

For me, I feel that the best way I try and champion Youth Work is by creating space for connecting with other youth workers, sharing, challenging and looking to the future together. I am a massive believer in working together for the betterment of our young people and supporting the mahi of youth workers in my community. The intention always being to pave the way for those coming through to be supported and see the profession of Youth Work continually grow.
References:
Ara Taiohi (2019). Mana Taiohi. https://arataiohi.org.nz/mana-taiohi
Damon, W. (2004). What Is Positive Youth Development? The Annals of the American Academy of Political and Social Science, 591, 13.
Lerner, R. M. (2004). Liberty: Thriving and civic engagement among America's youth. Thousand Oaks, CA: Sage Publications. doi:10.4135/9781452233581
Lerner, R. M. (2005). Promoting positive youth development: Theoretical and empirical basis [White paper]. Washington, DC: National Academy of Sciences. Retrieved from http://ase.tufts.edu/iaryd/documents/pubpromotingpositive.pdf
Silbereisen, R.K. & Lerner, R.M. (2007). Approaches to youth development: A view of the issues. In R.K. Silbereisen & R.M. Lerner (Eds.), Approaches to positive youth development (pp.3–30). Retrieved from http://www.eblib.com