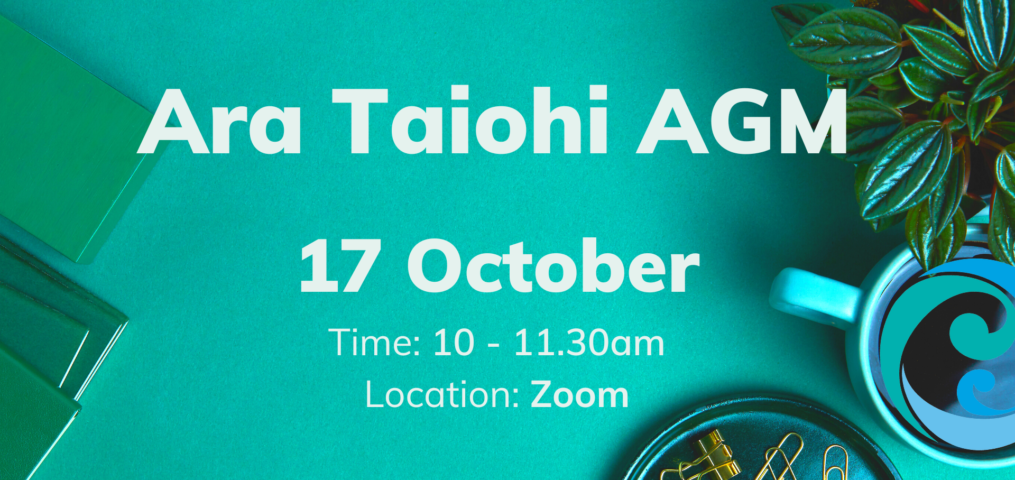 ---
Kia ora koutou,
Our members are invited to join us at this year's online AGM. Please join us on zoom.
Ngā mihi nui.
---
ARA TAIOHI BOARD NOMINATIONS
There are two positions available on our board this year! If you know of youth development champions that should be on our board, please shoulder tap them (or nominate yourself)!
Nominations closed on Monday 9 October, 10am
For any other AGM related patai email us.
---
CHANGES TO CONSTITUTION
At the 2021 AGM we announced a Constitutional Review, and accepted the first changes at our 2022 AGM. As a result of the second phase of the review we are proposing some minor changes to our Constitution. Please see the motion below for your consideration.
We are coming to the close of a 2 year review of the Constitution. Last year we approved some procedural changes, and this 2022-23 year we have focused on reviewing our membership and board make-up.
Additional information about this process:
All members were invited earlier this year to input into the review. Whetū Campbell was contracted to engage with those who were keen to feed into the review process. This feedback was given to the Constitutional Sub-committee who have subsequently recommended changes to the Board.
Board makeup:
As Ara Taiohi has grown we have found that ensuring the necessary skills and expertise sitting on our board (including rōpū oversight) to be a challenge. Following feedback we have recommended increasing the number of possible trustees from a maximum number of 7 to a maximum number of 9. We will continue to vote for 3 members every year with a two year term (ensuring there are always 6 board voted members). We will be able to co-opt up to 3 additional members for skills and expertise. Where a relevant rōpū holds a relevant kaupapa they will support appointment of the appropriate person. This flexibility will allow us to ensure we have a board makeup that reflects both our membership and organisational needs.
Membership types:
We have found our process of having relational members nominated through organisations to be ineffective. The proposed changes maintain base membership, and shift categorisation into a policy space.
---
If there are motions you would like added to the agenda please e-mail us. If received after Monday 16 October, 10am, raise your motion on the day of the AGM.
---
VOTING PROCESS
Once nominations for Ara Taiohi Board are received, they will be added to Election Runner.
Election Runner is the only voting platform we are using for the voting process. Members will be emailed a link to vote, prior to the AGM. More info on this soon.
---
Korowai Tupu Rōpū
For the last 2 years we have chosen to elect members to the Korowai Tupu rōpū, aligning this with our Ara Taiohi election process at the AGM. The rōpū has decided that this election process does not best serve our membership, and is reviewing how we the best way to ensure our rōpū makeup is effective. We will be confirming this before the end of the year, after consultation with members. If want to kōrero or are keen to consider joining the rōpū around this please contact Tyler.
---
Previous AGM Minutes
Please see below the minutes from the 2022 AGM.