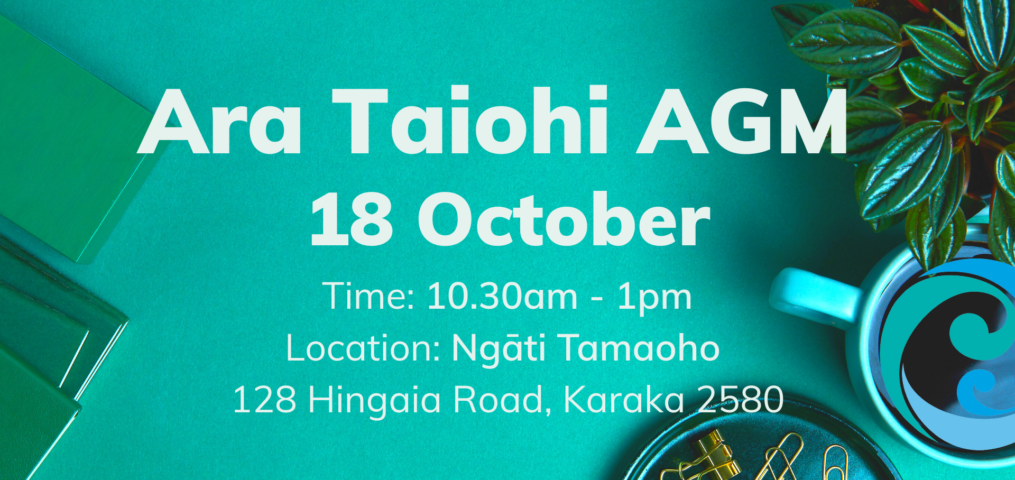 ---
Kia ora koutou,
Our members are invited to join us at the AGM in Tāmaki Makaurau. Please register below to let us know if you will be attending online or in-person.
Ngā mihi nui.
---
Ara Taiohi Board Nominations
There are two positions available on our board this year! If you know of youth development champions that should be on our board, please shoulder tap them (or nominate yourself)!
Click here to find out all the details and for the nomination form.
Nominations close: Monday 11 October, 10am
Korowai Tupu Rōpū Nominations
There are also three positions available on the Korowai Tupu Rōpū this year. In order to be nominated (or nominate yourself), you will need to have been approved as a current Korowai Tupu member by 30 September 2022.
Nominations close: Monday 11 October, 10am
Kaihautū Nomination Process
We honour Matekino Marshall for his service to Ara Taiohi as Te Kaihautū. Our new Kaikautū is appointed by the Kaiārahi Rōpū and announced on the day of the AGM..
---
Changes to Constitution
At the 2021 AGM we announced a Constitutional Review. As a result of the first phase of the review we are proposing some minor changes to our Constitution. Please see the motion below for your consideration.
If there are motions, you would like added to the agenda please e-mail us. If received after Monday 17 October, 10am, raise your motion on the day of the AGM.
---
For any other AGM related patai email us.
---
Voting process
Once nominations for Ara Taiohi Board and Korowai Tupu Rōpū close, the nominees will be added to Election Runner.
Election Runner is the only voting platform we are using for the voting process. Members will be emailed a link to vote, prior to the AGM. More info on this soon.