Our annual Youth Week poster comp is now open! Last year our awesome friends from the 298 Art Group designed the winning calendar!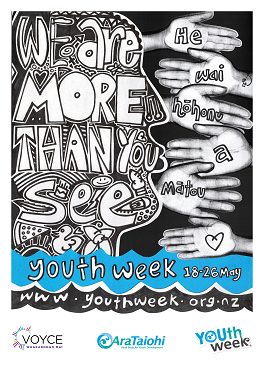 This year you could have your design printed and distributed nationally to over 2,000 locations, organisations and individuals before Youth Week 2020 (9-17 May)!
The criteria for the poster:
Designed by young people between 12-24 years of age
Reflects and connects clearly to the theme
Includes the theme in both Māori and English: "E korero ana mātou. E whakarongo ana koutou? We're speaking. Are you listening?
Includes the dates of Youth Week: 9-17 May 2020
Includes a space for the Youth Week logo, Ara Taiohi logo and sponsor logos
No recognisable brands or offensive language
Poster formats:

Electronic: photo file (JPEG or PNG) or Design file (AI/PDF/PSD)
Hand drawn posters can be physically posted into our office:

Ara Taiohi, PO Box 6886, Marion Sq, Wellington 6141
Please send your electronic submissions to us through email or share your folder to our Google Drive account. Links open up a email pop up!
Feel free to reach out if you have any questions! Submissions need to be in by Friday 13 March 2020!